Food conditioned bear euthanized in Denali National Park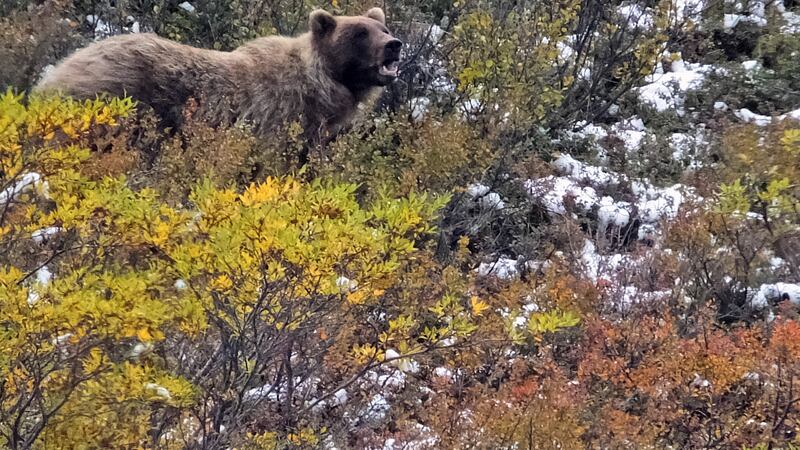 Published: Sep. 28, 2020 at 4:21 PM AKDT
FAIRBANKS, Alaska (KTVF) - Late last week, National Park Service (NPS) wildlife staff from Denali National Park and Preserve (Denali) euthanized a grizzly bear which had gained access to human food, and whose behavior and actions posed a safety concern for the people and properties in the Kantishna/Wonder Lake area. The euthanized bear was a large, young adult male. This particular bear is suspected of breaking into several facilities in the Kantishna/Wonder Lake area and gaining access to food stuffs as far back as the fall 2019.
This May, while removing snow in preparation for the park's spring opening, road crews discovered significant damage to facilities in the Kantishna/Wonder Lake area that was consistent with bear activity. Wildlife staff set culvert traps and motion-activated cameras to monitor the bear's activity, with the intent to identify and trap this bear, collar it, and perform aversive conditioning that would dissuade the bear from further activity in the area.On the morning of September 24, a bear was caught in a culvert trap, immobilized, and removed from the trap for inspection. The trapped bear was positively identified as the target bear by wildlife staff. Because of the amount of food the bear had gained access to, and because the behavior had persisted over several seasons, wildlife staff recommended the animal be euthanized. The bear was humanely euthanized and transported to Fairbanks for necropsy by an Alaska Department of Fish and Game (ADF&G) veterinarian.
"Removing a bear from the ecosystem is a rare event in Denali," said Tom Medema, Acting Superintendent. "Our mandate is to preserve and protect both wildlife and human life, and these types of actions are very difficult and weigh heavily park staff."
Park staff work hard to balance the safety of visitors with the responsibility to steward wildlife and maintain natural spaces. The park has managed several bears this season, particularly in the Savage River area. Most bears respond appropriately to negative reinforcement techniques that haze them away from areas where they may gain access to food or have increased interactions with the public. While the Kantishna/Wonder Lake area is visited by a number of bears, most never gain access to food and seek to avoid human contact.
"Gaining access to unnatural foods created a circumstance that threatened the safety of visitors and staff, and resulted in the loss of this animal," said Dave Schirokauer, Science and Resources Team Leader. "This is a sad and important reminder that keeping bears away from human and pet food, as well as garbage, is the most effective way to prevent conflicts between bears and people."
Food draws bears into neighborhoods and campsites, and food-conditioned bears can be aggressive and destructive. It is against the law to intentionally feed wildlife, or to negligently allow for wildlife to become attracted to human food stuffs. Learn more about safely coexisting with bears.
Because some of the bear activity occurred on private inholdings in the Kantishna area, park staff worked with ADF&G to obtain a Public Safety Take permit for these actions.
Copyright 2020 KTVF. All rights reserved.