A Cleaner Frontier: Fairbanks based electric company diversifies power sources with solar farm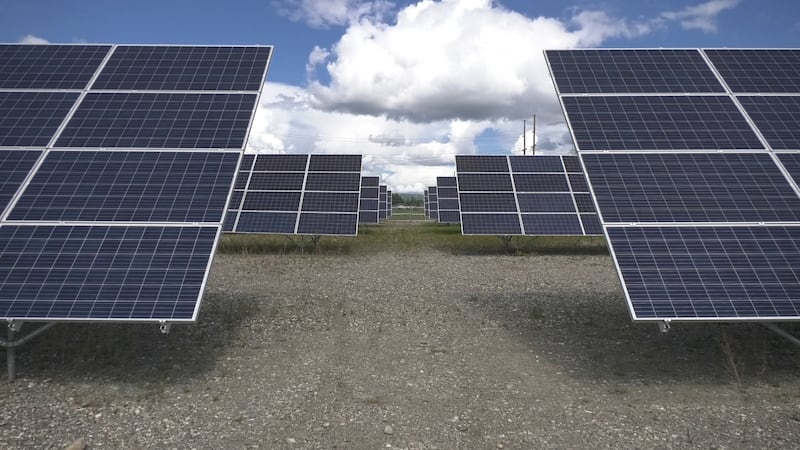 Published: Jun. 11, 2021 at 3:59 PM AKDT
FAIRBANKS, Alaska (KTVF) - Golden Valley Electric Association (GVEA) provides green energy from various sources to the Fairbanks North Star Borough.
One of these sources of green energy is a solar farm, which according to Evan McArthur, Energy Efficiency Engineer for GVEA, generates around 71 homes worth of power. McArthur explained, "The solar farm was completed in October of 2018. It's been connected ever since and has been generating power ever since then. So they're 320 watt panels, there's 1,700 of them, so you do the math... that's a lot of energy."
While the solar farm is a small scale demonstration, it has some promising potential for solar energy in the Interior. McArthur continued, "On a good day in the middle of the summer we're at about 25% capacity factor, which is pretty good because if you take into account [that] you've got nighttime, you don't have any sun so you're not generating power, and then you got clouds and random stuff too. So that's pretty good. This was more of a solar demonstration project too, so we're still learning about where our best locations are for them. Having solar power in Alaska, there's nothing else really to compare it to so we think it's doing pretty good."
Along with the solar farm GVEA also provides hydroelectric power from Bradley Lake, as well as wind power. While there aren't any expansion plans as of yet, residents could provide their own green energy through the GVEA's Sustainable Natural Alternative Power program, or SNAP.
"We don't have any plans to do anything similar to this quite yet, but we have a SNAP program where members can install their own solar panels, and that way we help expand green energy. We also have talked about setting up a solar farm in the community with virtual meters so that members don't have to install their solar panels at home. They can install them in a more desirable location maybe. Maybe they got trees around their house, and you really wouldn't want to install a solar panel there. You'd rather install it somewhere where it's open, a lot more light," McArthur commented.
For more information on the SNAP program, visit GVEA's website.
Copyright 2021 KTVF. All rights reserved.