Fans, Drivers and Kenny Wallace himself share memorable weekend at Mitchell Raceway
Published: Jun. 28, 2021 at 7:39 PM AKDT
FAIRBANKS, Alaska (KTVF) - Racing fans in Fairbanks, Alaska it was first-of-its-kind spectacle for the area over the weekend when former NASCAR driver circling their local dirt track. For the drivers competing in the Alaska Dirt Shootout at the Mitchell Raceway against Wallace, it was like playing 1-on-1 with their basketball idol or playing catch with their favorite baseball player.
For Kenny Wallace himself, a retired 25-year NASCAR veteran, it was also a once-in-a-lifetime experience.
"It was fantastic, a lot of fun, [I was] excited to get my first race under my belt in Alaska," Wallace said after competing at the Mitchell Raceway. "I reckon the next thing we have to do now is head south in Florida and find the southern most dirt track, that we have it complete; the northernmost dirt track and southernmost dirt track," he added with a laugh.
In Wallace's first time behind the wheel this weekend, he was actually bested by a local driver - Marty Flora - who defeated Wallace in Heat 1 Friday night of the Modified Class, completing 17 laps in 7:27.273 to Wallace's 7:27.667.
"I won against Kenny Wallace, Kenny freakin' Wallace!" Flora said after the race. "I would have never thought in a million years that I would come out here and beat Kenny Wallace, but I am going to chalk it up to 'home track advantage'."
Naturally, Wallace would go on to win the main event in the Modified class that night, coming away with the checkered flag at 15:06.928, with his best of 20 laps clocked at 16.713 seconds.
Other Friday night results includes Jimmie Hale taking the Dollar Stock event (16:35.344), Mike Braddock hoisting the trophy in the Late Models (16:33.685), Dave Parsons winning the Mini Modified class (5:29.894), Braden Anders in the Sportsman (8:14.215), while John McDonald was victorious in Sprints.
Helping make the unforgettable weekend happen was Greater Fairbanks Racing Association President Monte Pearson, who had a rather simple explanation as to how he was able to be a part of brining the NASCAR veteran to the Golden Heart City.
"I was scrolling through Facebook and I saw Kenny [Wallace] put up a video that said, 'get a hold of me if you want to see me at a track near you', so I shot him an email. His promoter asked, 'what dates are you looking for?' and I threw the Shootout at him, June 25th and 26th. Ten minutes later he said, 'we'll do it' and he gave me the parameters and everything that needed to happen, we made it happen. We want to keep grassroots racing in Fairbanks, Alaska going strong."
Vehicle troubles prevented Wallace from completed Saturday's race, as Flora took the checkered flag in the Modified class main event, while Hale took the Dollar Stock title for the second night in a row. The rest of the classes also had repeat winners, as Braddock, Parsons, Anders and McDonald were each victorious in their respective events.
A weekend to remember at Fairbanks' dirt track, as the racing season at the Mitchell is just getting underway. The drivers and cars will be off the dirt for the 4th of July weekend, before the return of weekly races through August 29 at 'the northernmost dirt track in the world'.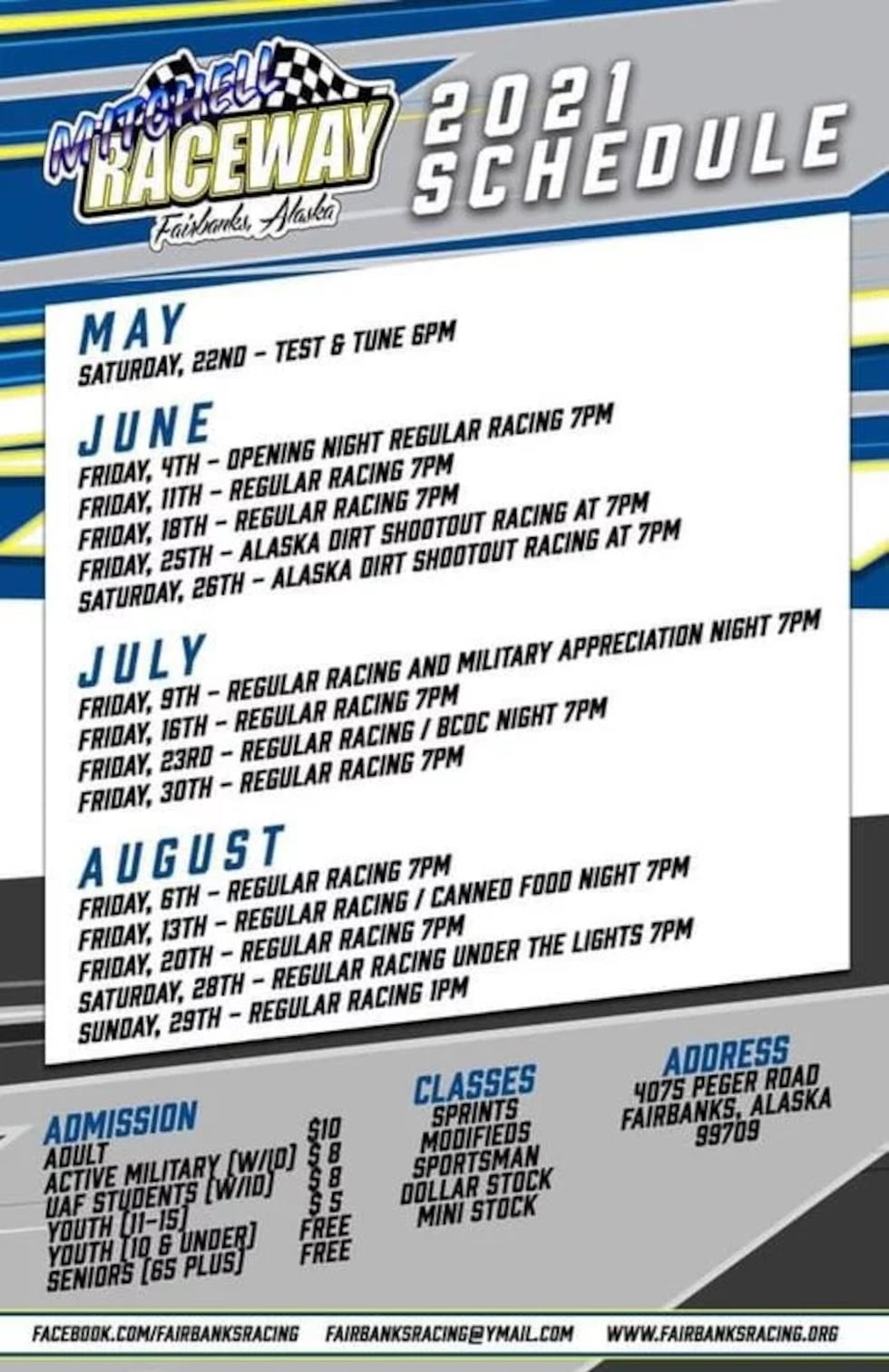 Copyright 2021 KTVF. All rights reserved.