Gardening Report: Peony farmers discuss the logistics of Alaska's peony industry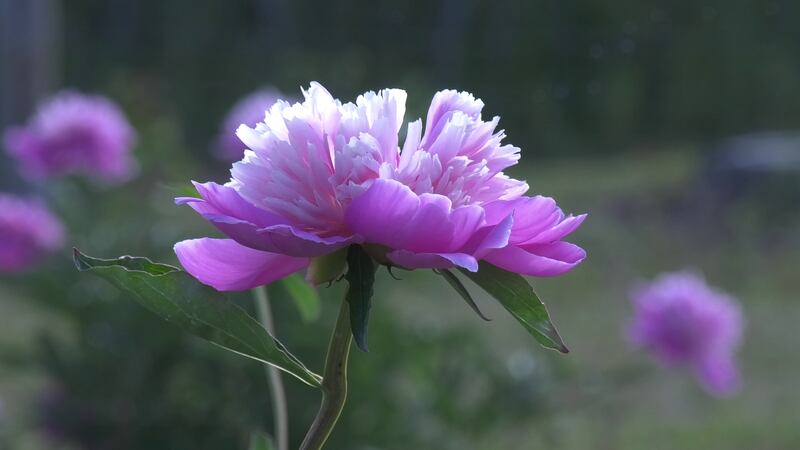 Published: Jul. 17, 2021 at 3:53 PM AKDT
FAIRBANKS, Alaska (KTVF) - With Alaskan peonies being grown and shipped across the world, two farmers told us about the inner workings of the peony industry.
According to Jill and David Russell, Owners of Boreal Peonies, the peony industry in Alaska is still relatively new on the world stage. David commented, "The Alaskan peony industry is recent. We've only been basically growing flowers commercially in Alaska in the last 10-15 years. People say, 'Well how can you grow peonies commercially?" In the Alaskan industry, Alaska is ideally suited within the world market because during the time period of July, August, and September, and into a little bit of October, peonies aren't available from anywhere else in the world."
Alaska is positioned in a unique place in the peony market, according to David, thanks to its later blooming season during July through September. "Historically that's been a time when roses and tea roses and all these other flowers have been used rather than peonies because they weren't available. So Alaska fits beautifully into this market on the world schedule. But there have been a lot of challenges in getting this industry up and going. Not only is it just as we've talked about in the research and getting the flowers to go, but things like infrastructure, transportation and chilling."
Regarding the infrastructure issues, David Russell elaborated, "Growing peonies is only one part of this. We have over 200 growers now in Alaska and it's a multimillion dollar industry, but we still have a lot of holes in our infrastructure that will limit the ability of this industry to grow. This summer we experienced problems with labor as many other industries have, and not having enough labor to get your flowers out of the field is absolutely critical. Because of COVID and the airline schedule changes, we fly most of our flowers Alaska Air Cargo. But once it gets to the various terminals there is very little cargo space available, and we have a perishable product. So flowers get bumped, and they can't just sit around. So we have a lot of challenges that we've faced from an infrastructure perspective, and as we work through these the industry can only get bigger."
But David believes that with the industry working together to better each other and share their knowledge, Alaskan peonies could conquer the world stage. "We have several hundred really fantastic growers, and that's why it's really important for us to act as a team because as we find workarounds that work for some farms, that might actually help a lot of other farms. In addition to that, Alaskan peonies have never been available before, so it's something that is not in the forefront of designers, florists, and brides in the lower 48 - that, 'Wow I can get peonies!' Once they realize they can, it's tremendous. But it's getting the word out that peonies are available - and they're not only just peonies, these are the best, the biggest, the brightest that you can get anywhere in the world."
Copyright 2021 KTVF. All rights reserved.