Community members gather in remembrance of Sophie Sergie
Published: Feb. 11, 2022 at 6:00 PM AKST
FAIRBANKS, Alaska (KTVF) - Gathering in the crisp, cold air, members of the Fairbanks community stood outside the Rabinowitz Courthouse to remember the life and legacy of Sophie Sergie.
With prayers, songs, and words they held a vigil for Sergie the day after Steven Downs was convicted of her murder and sexual assault on Thursday, February 10, 2022.
Sergie was killed in a women's dormitory bathroom at the University of Alaska Fairbanks on April 26th, 1993. Her death was an unsolved cold case for nearly 30 years.
Those who gathered held candles and posters with her name. On the posters were messages saying never forgot about Sophie. Those who gathered shared stories and messages of hope, finally bringing some closure to the Fairbanks and native community.
"For there to be closure after so many years and justice for Sophie and her family is amazing and it gives us hope that we can continue to find justice for our women and continue to build safety for our women across the state," said Janelle Griffin-Chapin, with the Alaska Native Women's Resource Center.
Griffin-Chapin said those who knew Sophie and followed her case their whole lives. She said her murder marked the foundation of the work that she and many others do, advocating for the native people, and for many lives of women who have disappeared and wrongfully killed.
"So for many of us that grew up in our native communities, we grew up hearing stories about our women disappearing or dying under mysterious circumstances, and never getting justice or never having answers for what happened or where they went missing, or how to be accountable for their murder and for someone to have justice in a family and have closure means a lot to our families," Griffin-Chapin expressed.
She said that The Alaska Native Women's Resource Center continues to advocate on the state, national, federal, and tribal levels for justice for native women and their families.
Griffin-Chapin added, "We envision our women being safe in their homes, and in their communities, and our children to be safe in every aspect of our lives."
When asked what her message would be to the public Griffin-Chapin said "sovereign women are safe women, and we will continue to fight for our women's safety and our children to be safe."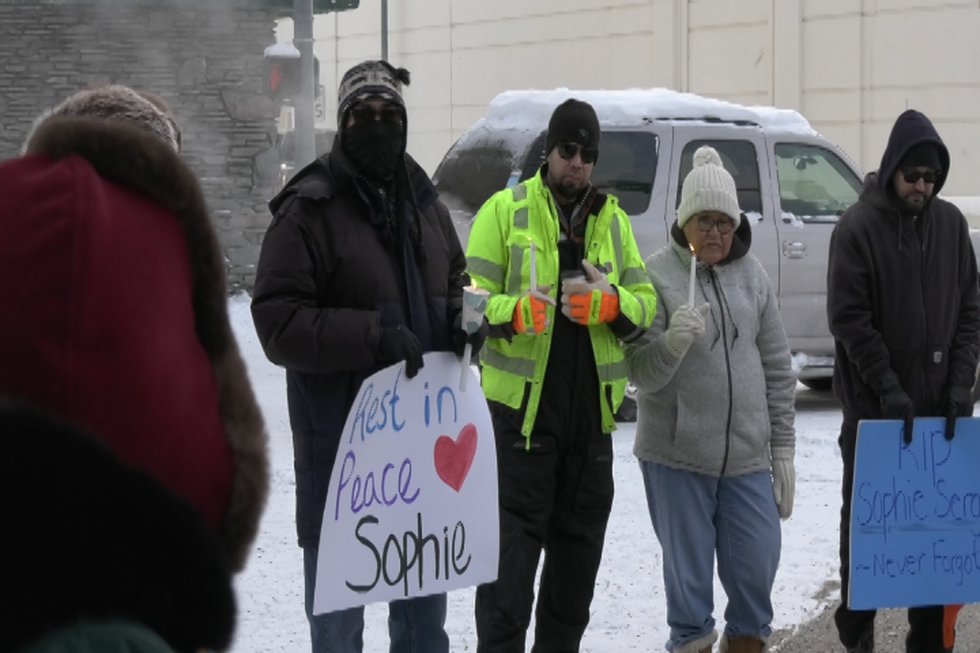 She, like many others, have been waiting for this day for a very long time. A day to remember Sophie not by how she was killed, but by how she lived.
Copyright 2022 KTVF. All rights reserved.