A rise in soldier suicides prompts roundtable discussion
Published: Feb. 25, 2022 at 6:15 PM AKST
FAIRBANKS, Alaska (KTVF) - An increase in the number of suicides has been seen within the United States Army Alaska, also known as USARAK.
On Friday, February 25, 2022, a roundtable discussion was held to address the current situation where senior leaders from USARAK and Fort Wainwright, alongside health professionals, took questions from the media.
Major General Brian Eifler, USARAK's Commanding General, spoke on the improvements being made and those that have been implemented. These include updating facilities, creating programs for new soldiers and families, hiring more behavioral health specialists, and finding ways for soldiers to have open discussions with leadership.
"My hope is that a lot of these [SIC], that they see that you know, as you get through their struggle, and they make it on the other side that they can be the spokespeople for this because that is what we really need. We need people within the ranks to say, I need help, and I got help, and I am better because of it, said," Major General Eifler. "The more people normalize like, "Hey man, I sort of struggle with this, and it really messed me up, but I got to do this, and it got me back on the right path, and I'm better because of this, I'm stronger,"....So I think that is where our focus is."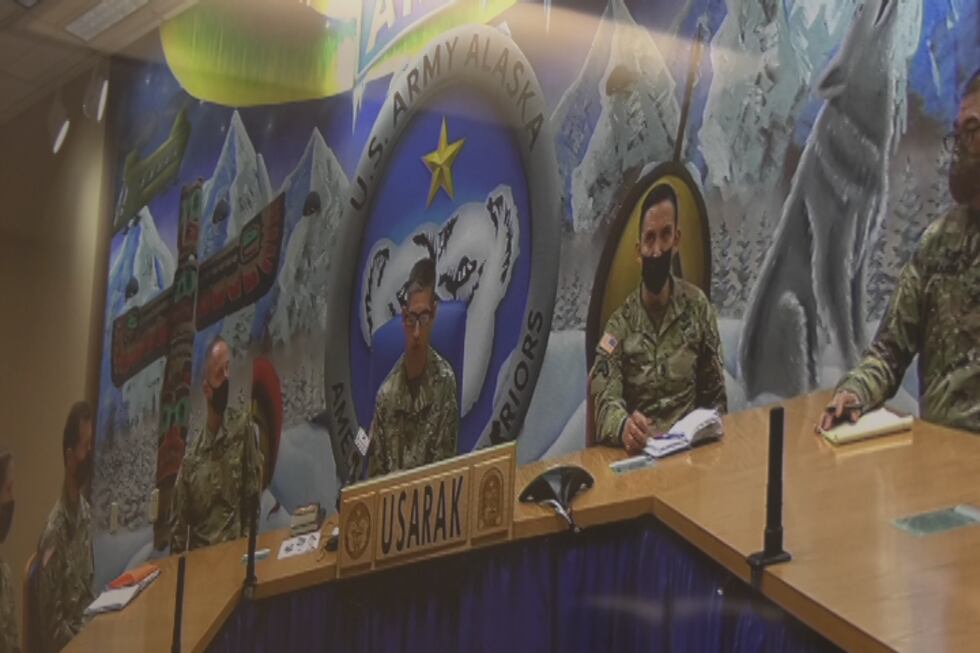 In a report made on background information regarding Suicide in U.S Army Alaska, the report stated at least 11 Soldiers assigned to U.S. Army Alaska installations died by suicide in 2021. Six additional deaths are still under investigation.
"We value the lives of all our soldiers, families, and civilians and do everything we can to promote healthy lifestyles and positive behavioral health, but last year's death toll is greater than the eight suicides we faced in 2019 when the USARAK leadership requested that the U.S. Army Public Health Center's Behavioral and Social Health Outcomes Program conduct a behavioral health epidemiological consultation or EPICON," the report stated.
The EPICON team had visited Fort Wainwright in April of 2019 for the first part of the study.
Joseph Pecko, team lead said in an interview in 2019, "All we're doing is some of the key leader interviews from the community, understanding the appreciation for the uniqueness of this community, compared to other communities, and we are then doing the focus group interviews to talk to the soldiers at the different rank levels, as well as the family members, spouses."
Now in 2022, Major General Eifler says USARAK and the Fort Wainwright Garrison are still working hard to improve the quality of life for soldiers and their families, especially those who are coming to Alaska for the first time.
The report also noted: U.S. Army Alaska suicide rates for the past eight years.
2014 Two suicides, both at FWA.
2015 One suicide, at JBER.
2016 Four suicides, all at FWA
2017 One suicide, at JBER.
2018 Three suicides, all at FWA.
2019 Eight suicides, seven from FWA including one in Iraq, one at JBER.
2020 Seven suicides, four at JBER, three at FWA.
2021 Eleven suicides, six at FWA and five at JBER.
(Six 2021 deaths are still under investigation. One at JBER, five at FWA)
"Overall, the problems faced by the FWA community identified in this BH EPICON are consistent with past BH EPICONs. However, the challenges posed by the arctic environment may compound problems and create additional stress for soldiers and their families. Senior USARAK and FWA leadership continuously and actively seek ways to improve the soldier and family experience. Implementing and evaluating the impact of the above recommendations where feasible will assist senior leadership in their efforts," the report concluded.
We plan to continue our coverage on soldier suicides next week when we will hear from Colonel Nate Surrey, Fort Wainwright Garrison Commander.
If you or someone you know is in crisis, the National Suicide Prevention Lifeline can help. The number is 1-800-273-8255 or text the word "TALK" to 741741.
Copyright 2022 KTVF. All rights reserved.