Pet of the Week: Graham, the snuggle bug of a Norwegian Elkhound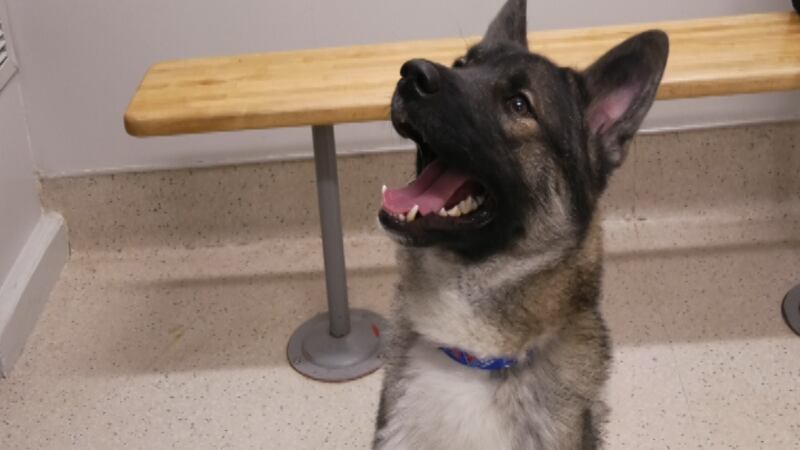 Updated: Apr. 21, 2022 at 5:15 PM AKDT
FAIRBANKS, Alaska (KTVF) - Here's an excited little guy who would love to sit around the campfire, making smores. Graham is a loving dog who is looking for a new forever home to call his own.
Here's what Britley Calkins, an animal handler with Fairbanks North Star Borough Animal Shelter, had to say:
"Graham is a Norwegian Elkhound mix and he is a year and 4 months old. Graham was a little bit scared when he first arrived at the shelter and exhibited some signs of 'stranger danger' so he might take a little bit of time to warm up to new people. But once he got to know us, he completely warmed up and he has just been a staff favorite.
Graham has a history of doing fantastic with people of all ages. He was said to do well with other dogs. We do not have any history on how he does with other critters such as cats, pocket pets, or livestock. Please keep in mind all introductions to new people or animals should be done in a slow, safe, and controlled environment for the best outcome.
Graham is a dog that will require exercise. He isn't bouncing off the walls back there, but he will enjoy nice long walks.
Graham has been excellent at keeping his kennel clean here at the shelter. He may need some reminders on potty training while adjusting to his new home but he's done fabulous while here.
If you are interested in it meeting Mr. Graham and kind of helping him come out of his shell, continue with his training, just giving him that loving home environment, please give the shelter a call. We have plenty of other dogs, cats, and pocket pets available for adoption here at the shelter."
Copyright 2022 KTVF. All rights reserved.