Boreal Woods Mushroom Farm, a unique Tanana Valley Farmers Market find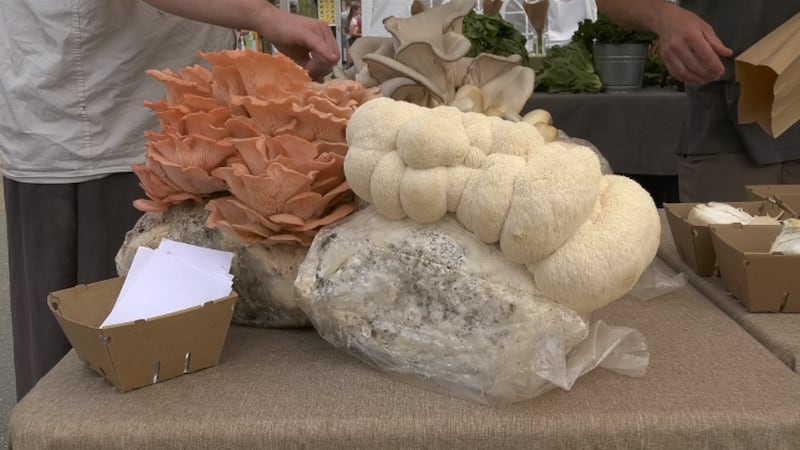 Published: Jul. 18, 2022 at 5:00 PM AKDT
FAIRBANKS, Alaska (KTVF) - The wares of the Tanana Valley Farmers Market are in full abundance these days, filled with flowers, vegetables, and artwork from local vendors.
You will not find any of those items from Matthew Meares though. He grows mushrooms - and not just any mushrooms but some that are cool weather, and others that are tropical. He produces 10 different varieties -from Lion's Mane to the vibrant Oyster Mushroom - and these particular mushrooms are not found in local grocery stores.
Meares is the owner of Boreal Wood Mushroom Farm and a stay-at-home dad. He explained how he went on this mushroom journey as a way for him and his two boys to learn together. "I had a building and I was looking for something I could do with my kids to have... like a Farmers Market stand."
After learning about the unique mushrooms Alaska's climate can produce, Meares began growing. "I just kind of like.. dove into growing mushrooms because it's very interesting and very science-based versus your typical farming. So a lot of it is lab work", he said.
Even though there are lab hours involved, he said it's a fairly easy process to grow mushrooms.
Meares' hobby has become a family affair. His sons, Briar and Emerson, who are 5 and 8 years old, help in the harvesting process.
The Meares have been in the mushroom business for two years now and Meares says looks forward to learning new techniques for growing this edible fungus in the future.. "It's been really fun and interesting. We're learning a lot and making a lot of mistakes.
He also shares what he learns about mushroom farming with anyone willing to learn, and hopes to bring more exotic mushroom options to the community.
More on Boreal Wood Mushrooms Farm can be found on their Facebook page.
Copyright 2022 KTVF. All rights reserved.