Putting the Wheels in Motion: Fort Wainwright Stryker Vehicles move out of Alaska
Published: Jul. 26, 2022 at 7:23 PM AKDT
|
Updated: Jul. 27, 2022 at 9:27 PM AKDT
FAIRBANKS, Alaska (KTVF) - Big changes are moving forward with Fort Wainwright, with the 11th Airborne Division's transition to Arctic strategy as the first round of Stryker vehicles were loaded onto railcars early Tuesday Morning.
As the winds blew to the southwest, Stryker vehicles from Fort Wainwright were headed south on rail cars traveling to the lower 48.
The relocation of the Strykers comes at a time when the Army installation is transitioning its Stryker Brigade Combat Team to accommodate the strategic plans of the 11th Airborne Division. The goal is to become more equipped to handle Arctic conditions by moving towards more air assault capabilities and cold weather all-terrain Vehicles.
"[It's the] first time for a unit to be focused like this in the Army and we are at a very unique geographical location," said 1st Brigade 11th Airborne Division's Chief Warrant Officer 2 (CWO2) Erik Peterson. "It is a unique mission and we are equipping it to do that mission."
In this first movement, 68 Strykers are being loaded up, expected to make it to Anchorage this weekend.
"Three Strykers per railcar. We have four lanes, we are loading the 4 lanes. Each railcar will have 3 Strykers on it," said Joe Valdrow, who works as a Deployment Specialist with the 402nd Army Field Support Battalion of the Logistics Readiness Center on Fort Wainwright.
The Strykers' final destination is Anniston Army Depot located in Northeast Alabama. While at Anniston they will undergo a re-fit process, upgrade, and be put back to use.
"Normally being in the middle of Alaska, everything is a multi-modem move," Capt. Peterson elaborated. "So everything is going to get on a train, then it is going to get on a boat, then it is going to get on another train and/or maybe trucks in the lower 48, so everything is handed off to the transportation provider."
This move opens the door for Fort Wainwright to focus on Army readiness in an Arctic environment.
"We were the most geographically isolated Stryker brigade in the Army, and now we will be the most geographically isolated Arctic Brigade in the Army," Peterson said, adding that the soldiers who worked with and around the Strykers will transition to machinery that will be more adaptable to the environment.
Peterson says the new set of skills will set them apart from any other Army installation.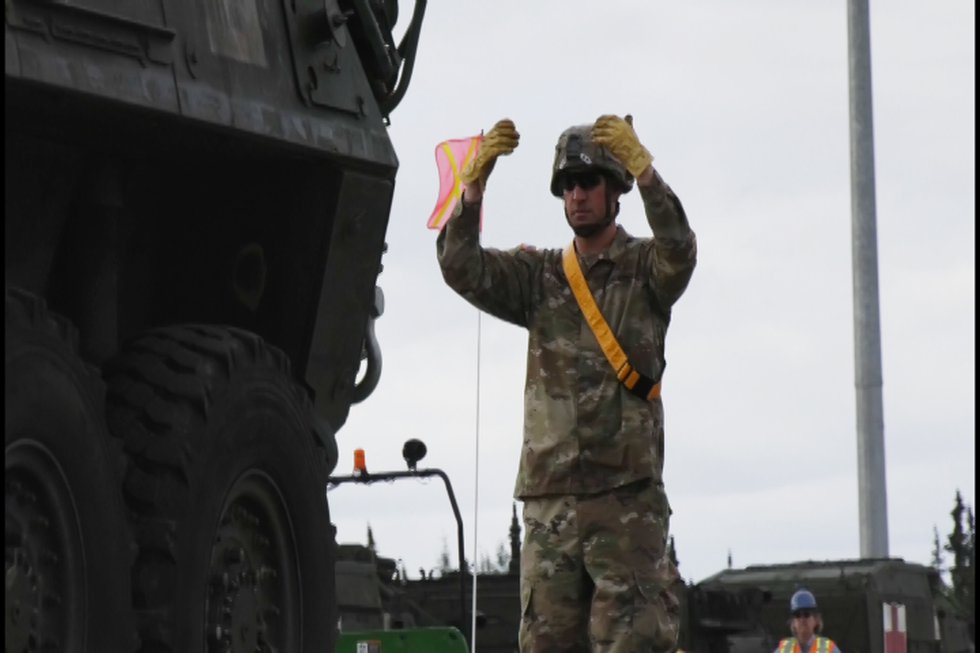 "A lot of army units have a skillset that is kind of plug-and-play anywhere in the world that our leaders need us to go and fight, and win," he added, "and we will be a brigade that gets to train and specialize and be lethal and fight in the Arctic."
But this process isn't just a pack up and go. It took planning to ensure the safety of the soldiers and the equipment.
First, there was a rehearsal, which Peterson referred to as a "Rock Drill." "We came out here with key leaders," he explained, "and we literally stood out here, we had a map, and we were like 'We are going to put the part of the Strykers here.. the medics go here.. This is the order everything goes in.'"
The reason for rehearsal is that it takes a lot of manpower to move machinery like the Strykers. They wanted to ensure the safety of the personnel as well as the equipment.
Valdrow said the team is "taking our time to get everything on there so we don't have any accidents. Being safe is the biggest part of this, making sure that everything is on there safe and loaded safe."
By September, Fort Wainwright is expected to have all 321 Stryker vehicles off the installation and headed to their final destination in Anniston, just before the first snow.
Copyright 2022 KTVF. All rights reserved.