Governor Dunleavy issues disaster declaration for western Alaska coastline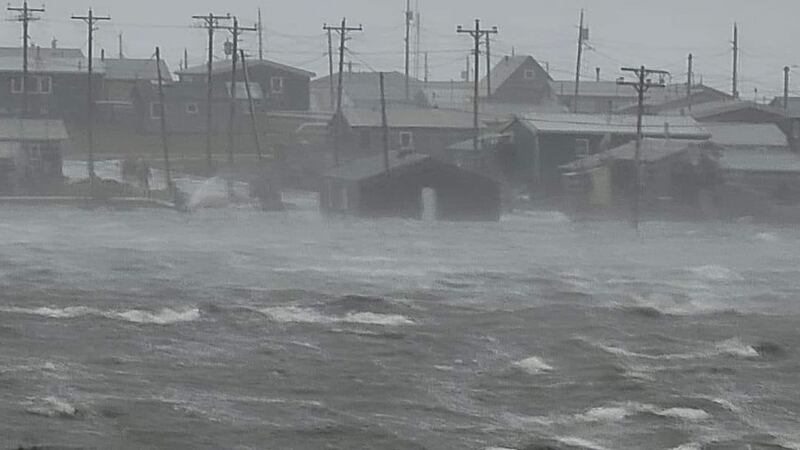 Published: Sep. 18, 2022 at 6:43 AM AKDT
FAIRBANKS, Alaska (KTVF) - UPDATE: Governor Dunleavy held an additional press conference on Sunday afternoon, September 18.
According to the governor, the storm coming from Typhoon Merbok remains active in the area around Kotzebue.
Dunleavy said that his office has not been made aware of any fatalities or serious injuries as a result of the storm and no one has been reported missing.
The storm is expected to linger around Point Hope, and water levels are expected to remain high in the affected areas of western Alaska until Tuesday. The storm has caused flooding, erosion and electrical issues across the affected area.
The governor's disaster declaration is being used to leverage state resources, providing essential emergency supplies such as food and water to affected residents.
According to Bryan Fisher, Director of the Alaska Division of Homeland Security and Emergency Management, this will be followed by an effort to rebuild damaged homes in communities across western Alaska before freeze up, which is expected in around 3 weeks.
The full press conference can be found on the governor's YouTube page.
ORIGINAL STORY:
Saturday evening Governor Dunleavy held a press conference and declared a disaster declaration for western Alaska communities affected by the historic storm from the remnants of Typhoon Merbok.
"We're going to move as quickly as we can to provide relief, to provide recovery, to provide the essentials that people need," Dunleavy said. "And so we're taking this very seriously."
The state is currently working with the National Guard and Federal Government in hopes of being able to provide assistance before the October freeze-up. The governor said this is his "administration's number one priority." "We won't fully know the extent of the damage and needs of all the communities affected until after a complete assessment is made," added Dunleavy.
Given that the storm is still ongoing in the far northwestern part of the state the 'complete assessment' won't likely be final until Sunday afternoon at the earliest, or most likely Monday at the latest.
High winds, heavy rain and flooding have battered numerous communities along Alaska's western coastline Friday evening through Saturday. Flood advisories remain in effect from Togiak to Utquigvik. Meteorologists at the National Weather Service (NWS) said that south of Hooper Bay, the peak of the storm has passed but strong winds continue along with larger waves. The biggest wind gusts were reported at 91 mph on Saturday at Cape Romanzof, which is northwest of Bethel. Winds of 45 to 65 mph have been reported, along with 30 to 50 foot waves and storm surges of 4 to 18 feet in many communities along the west coast.
As the storm moves further north, the NWS reports, "coastal flood warning from Cape Lisburne to Wainwright remains in effect while Utqiagvik is under a Coastal Flood Advisory. High water may inundate low lying areas near the coast as the most significant rises will occur during the day on Sunday or Monday."
Officials are keeping a close eye on a second typhoon, which is currently over Japan, that has the potential to affect areas south of Hooper Bay as soon as Sunday evening.
For more information visit the National Weather Service website or Facebook page.
Copyright 2022 KTVF. All rights reserved.