Debate for the State: U.S. House candidates discuss Alaska's top priorities
Published: Oct. 26, 2022 at 6:28 PM AKDT
|
Updated: Oct. 27, 2022 at 9:34 AM AKDT
ANCHORAGE, Alaska (KTUU) - Candidates for Alaska's open U.S. House seat participated in the Debate for the State Wednesday evening. Candidates were pressed with questions about issues currently facing Alaska.
Republican Nick Begich III, Libertarian Chris Bye, Republican former Gov. Sarah Palin and current Congresswoman Mary Peltola, a Democrat, all participated.
The Debate for the State was hosted by Alaska's News Source, Alaska Public Media, and KTOO — and was be moderated by Alaska Public Media News Director Lori Townsend and Alaska's News Source Managing Editor Mike Ross. Additionally, Alaska's News Source Assistant News Director Rebecca Palsha asked questions of the candidates submitted through social media live during the debate.
Candidates were first asked about inflation and gas prices.
"We also need to make sure that government spending is in control, that government is put back in its lane," Begich said.
"We need to drill baby drill," Palin said. "Energy costs are the driver of inflation, energy costs which effect absolutely everything we do in America, everything we consume — oil and gas — it touches that, so if we have more supply of oil — our own, clean domestic, USA oil, coming from Alaska ideally."
"We do have astronomically high inflation rates across the country and this is certainly, especially true in Alaska, especially when you compound that with shipping costs," Peltola said. "I do believe that getting our energy prices under control is a huge piece of this puzzle, I've already been working on moving forward with the Willow Project."
"Families in Fairbanks are squeezed between federal bureaucracy and federal regulation," Bye said. "And it's true, the dysfunctional energy policy that this (presidential) administration has brought upon us is a prime factor for inflation."
After that question, candidates were asked about the state of Alaska's fisheries.
"We've got to take precautionary management. We cannot allow metric tons of bycatch," Peltola said. "This has led to a very devastating collapse of not only salmon but halibut and now we're seeing it in the crab industry as well."
Candidates were then asked about what could be done to respond to a pandemic in the future.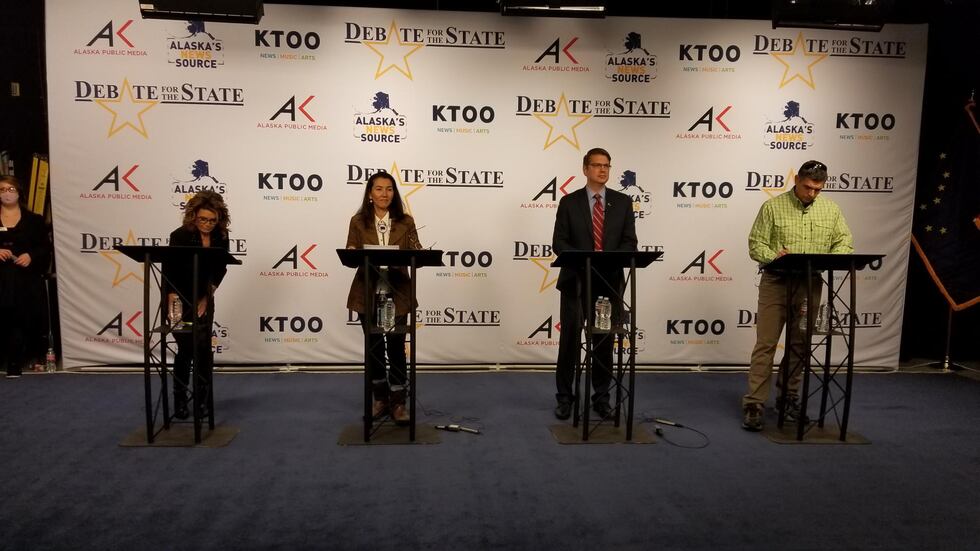 "We make sure that Fauci is not head of the CDC," Palin said. "We depoliticize the agency that did play politics. The whole COVID crisis was more about control than it was actually about a virus."
Candidates were asked numerous times during the debate about political divisions.
"The fact that across America people can go on television and radio and print media and online and tell lies and there are no repercussions, I think that being able to broadcast lies has really caused a lot of division on things that should be an open and shut case," Peltola said.
"It is absolutely a travesty and unfortunately both of the parties are on the same team," Chris Bye said. "That's why I'm running. I'm tired of both political parties ruining it for us and the evidence is clear you can't trust either one of them."
In the Aug. 16 special general election to fill the U.S. House seat left vacant by the death of former Rep. Don Young, Peltola outperformed Palin by over 12,000 first-place votes. Peltola received 70,295 total first-place votes while Palin came in second with 57,693 and Begich received 50,021. The 1,189 votes Bye received were elevated to fourth-place after Republican Tara Sweeney withdrew her candidacy for the November election.
Candidates were also given the opportunity to ask their fellow candidates a question, which led to Palin and Peltola speaking on their relationship after working with each for years in state government.
There were also multiple questions on the candidates' willingness to work across the aisle to get things done.
"If Alaskans want the bill, they need to contact us," Bye said. "So I'll put it out, when I'm there, you can read the bill, you can give us feedback and that's how we'll get things done."
Begich stressed his view that bills are about policy, not party.
"Most of the bills that pass through the House of Representatives are bipartisan in nature, so it's important for people to recognize that there is common ground," Begich said. "But when you're compromising your principles to get there, that's wrong, that's what I have a problem with."
Palin said Alaskans need a representative not willing to compromise on issues that effect them most.
"You know, Barack Obama is still calling a lot of these shots," Palin said. "Remember he promised to fundamentally transform America, so if a bill came over that represented anything that he's representing — no, absolutely not would I work on it."
Peltola explained that she would be willing to cross party lines to work on legislation that effects the state the most.
"This is the most important thing we can do, as a sitting legislator, is work to heal the divisions in our country, and it starts with me and any relationship that I can build with anyone who is interested in helping Alaska and helping our country," Peltola said.
On Nov. 8, Alaskan voters will select Bye, Begich, Palin or Peltola to serve in Congress for the entire two-year term. Sample ballots and voter information are available on the Division of Elections website, and early voting began this week. The November election will be the second in Alaska history to use the ranked-choice voting system, passed by a voter initiative in 2020.
Bye is a Libertarian fishing guide in Fairbanks who previously served in the U.S. Army. Begich was the first to file to run against Young when he did so last October. Begich's grandfather previously held the seat before Young, and Begich is currently a part-owner of Earthpulse Press. Palin became Alaska's first female governor in 2006 after previously serving as the mayor of Wasilla. She joined Sen. John McCain's unsuccessful presidential bid as his Vice-Presidential nominee in 2008, and has not held office since resigning as governor in 2009. Peltola is a former state legislator and later served as Executive Director of the Kuskokwim River Inter-Tribal Fish Commission.
Peltola's victory was in large part due to the 15,445 voters who selected Begich first and Peltola second, helping the Yup'ik woman to become the first Alaska Native to represent the state in Congress.
Stay tuned Thursday as candidates for Alaska's open U.S. Senate seat participate in the final Debate for the State of this year's election cycle.
Copyright 2022 KTUU. All rights reserved.