USARC conducts 115th meeting at UAF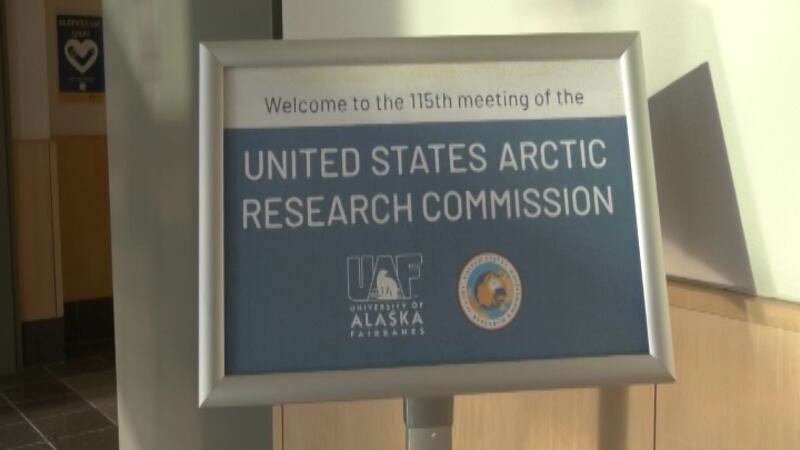 Published: Oct. 27, 2022 at 6:17 PM AKDT
FAIRBANKS, Alaska (KTVF) - The University of Alaska Fairbanks hosted the United States Arctic Research Commission for a two day meeting Oct. 25 and 26.
The United States Arctic Research Commission (USARC) is a presidentially appointed commission that makes recommendations to the president, congress and the Interagency Arctic Research Policy Committee. The commission executes this task by holding meetings during which scientists and other individuals representing different agencies and organizations present their findings. After the meeting is completed the commission then accounts for all of the data and reports their recommendations.
The commission is made up of a diverse group of experts and leaders to ensure a mix of unique perspectives and concerns. Currently the commission is comprised of 7 members. "Five of the 7 are Alaskans; four of the 7 are women, three of the 4 (women) are Alaska Native leaders," said Mike Sfraga, the chair of USARC.
The diversity of the commission however also leads them to consider the impacts of the research as it may apply to other arctic nations. Occasionally, this consideration requires the commission to request presentations from researchers working in those other nations.
Much of arctic is subject to the ripple effects of development, and the populations of different cultures can span across borders adding to the need to consider international impact. Elizabeth Qaulluq Cravalho, one of the commissioners said that even though she is an Inupiaq from Kotzebue, "[the Inupiaq people] are circumpolar, [they're] in Russia...Canada...and Greenland as well."
The commissioners apply the data they are presented to five goals: environmental risks and hazards, health and well-being, infrastructure, economic research, and arctic research cooperation. Issues faced in the arctic apply to multiple goals due to the ripple effect. This includes wildfires, sea ice changes, melting permafrost and others.
Sfraga said the issues that the research focuses on requires the commission to "look over the horizon." He added that "unfortunately, you have to look too far over the horizon to see the challenges we have before us."
The arctic is currently facing climate change in a way much of the planet is not. Compared to the lower 48, the arctic is experiencing change at a rate that is "4 times greater" than the other states, Sfraga said.
The commission will report their findings and recommendations in 2023.
Copyright 2022 KTVF. All rights reserved.