Detailed globe adorns Aurora Discovery Institute at Pike's Waterfront Lodge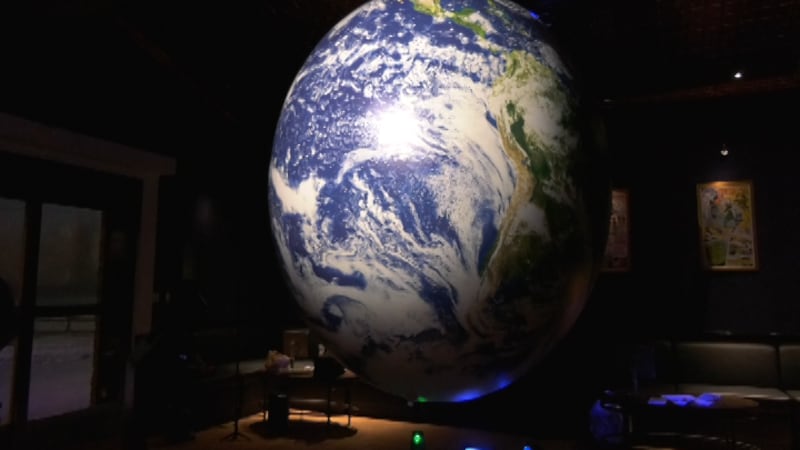 Published: Dec. 22, 2022 at 4:38 PM AKST
FAIRBANKS, Alaska (KTVF) - Pike's Waterfront Lodge is housing a new globe that will help tourists and locals alike understand how the arctic fits in with the rest of the planet.
Elizabeth Griswold, General Manager at Pike's, explained, "We don't want this just to be for hotel guests. This is a free exhibit."
The globe is part of the Aurora Discovery Institute, currently in development. It was designed by an artist and cartographer known as "Earthball" Eric. "My favorite part is seeing people's reactions when they walk in, for example, to this room and see the globe for the first time," he said.
Standing seven feet in diameter and showing a full rotation, the globe was designed using satellite images of the planet. "Like millions of other people, I was inspired by the photographs that the astronauts brought back from the Apollo moon missions," Eric said.
This globe is just one example of his work, which includes beachball sizes versions. "We've produced tens, probably hundreds of thousands of those small globes, and maybe a couple hundred giant globes like this ranging from this size which is seven feet in diameter to over twenty feet."
Luminescent paint makes all the major cities visible as the planet spins away from a light representing the sun.
Lights projected in the north and south, meanwhile, show the ever-shifting colors of the aurora. "To our knowledge, this is the first globe ever created to display the aurora effect," Eric said.
At the Institute, facts about the aurora borealis line the walls, and iPad stations around the room will help visitors learn at their own pace.
Once open to the public, the facility could be used to educate students about how the aurora works. "Come in for an afternoon snack with cookies, do S.T.E.M [Science, Technology, Engineering and Math] projects inside of our Binkley room, learn about the artwork that we have," Griswold said.
The building also acts as to a place to warm up on brisk winter days, as in Fairbanks temperatures often go as low as -40°F.
While the room will be free to access, visitors must still secure a key card from the lodge. Griswold explained, "Obviously, we designed this building for winter use because the Earth globe is going to look best in the nighttime, the darker environments, but it's going to be available all summer long as well."
The Aurora Discovery Institute is scheduled to open in mid-January while the winter tourism season is in full swing.
Copyright 2022 KTVF. All rights reserved.