The State of Alaska moves forward with settlement agreements from pharmaceutical companies and distributors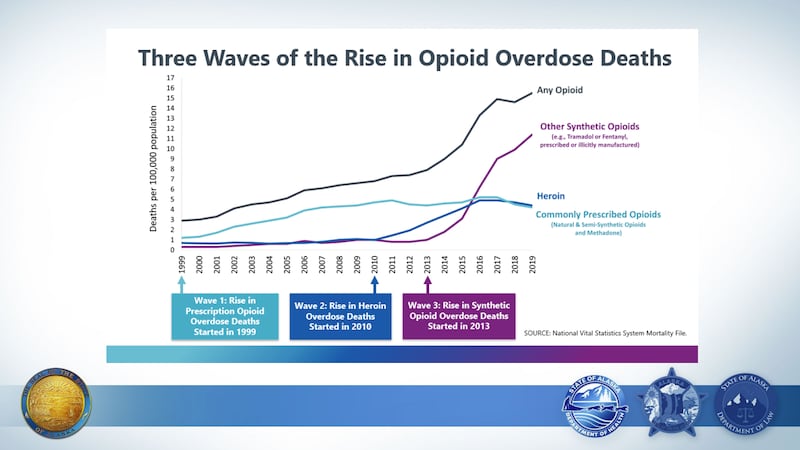 Published: Dec. 24, 2022 at 4:57 PM AKST
FAIRBANKS, Alaska (KTVF) - In 2021 alone, Alaska lost 253 people to overdose. Of the 253, 196 of those deaths were opioid-related. That's according to a Press release sent out by the State of Alaska Department of Law earlier this week.
A link to those slides is here.
To reduce those numbers and put an end to the opioid crisis in Alaska, the State recently agreed to three multi-state settlements with opioid manufacturers and chain pharmacies.
These include Walmart for approximately $8.5 million, Teva Pharmaceutical Industries for $8.2 million, and Allergan for approximately $4.8 million.
Additionally, over the last couple of weeks, the State has received final settlement proposals from CVS ($10 million over 10 years) and Walgreens ($11 million over 15 years). These settlements would add an additional $21 million to settlement agreements.
This does not include the State's evaluation to join global settlements.
During a media briefing on December 19, 2022, Alaska Lieutenant Governor Nancy Dahlstrom said the state of Alaska and agency partners are working on three fronts to end the opioid crisis. One is through interdiction of drug trafficking. Two involves education programs. As for three, Dahlstrom explains that goal is "litigation that holds the distributors, the manufacturers, and the chain pharmacies that are involved in this crisis accountable."
Dahlstrom said with the hard work of state agencies and law enforcement, "We have seized some 2.45 million doses of illicit Fentanyl in an initiative that has saved countless, countless lives by getting that poison off of the streets."
She went on to say the State is not going to stop being relentless in this effort, and the announcement of the settlements is proof of that.
Alaska's Deputy Attorney General, Cori Mills added "Back in the early 2000′s and in 2010 we were finally starting to see the evidence of what was going on and why these prescription opioids were potentially flooding the market in a way that actually wasn't helping patients, but potentially getting patients addicted and causing harm in the communities,"
According to the press release, the Walmart filing states, "This case arises from the worst man-made epidemic in modern medical history — an epidemic of addiction, overdose, and death caused by defendants' flooding the United States, including the State of Alaska, with prescription opioids in violation of their common-law duties and obligations under the federal Controlled Substances Act (CSA) and Alaska Controlled Substances Act (ACSA)."
Between 2010 and 2017, Alaska received over 3 billion retail doses of prescription opioid painkillers.
According to state legal findings, that alone should have put pharmacies and distributors on notice that there were too many opioids flooding the Alaskan market, and that companies should have reported suspicious orders as required by law.
In addition, The Alaska Department of Public Safety along with local, state, and federal law enforcement agencies have seized over 212 pounds of illegal narcotics as part of a focused enforcement initiative that occurred across the state between May 1, 2022, and September 30, 2022.
More reports have shown law enforcement seized approximately 2.5 million potentially fatal doses of illicit fentanyl during this period. Additionally, 22,441 grams of heroin, 22,865 grams of methamphetamine, 13,306 grams of cocaine, and many other illicit narcotics have been seized.
In a report by the Governor's Advisory Council on Opioid Remediation, 67% of deaths involved synthetic narcotics, including fentanyl. The Governor's Advisory Council on Opioid Remediation released a report that provided a "framework for allocation of settlement funds for opioid remediation."
Mills said during the briefing there is a break-out in what political subdivision accounts will get, which is roughly 15%. The statewide abatement account and the state account will receive 85%.
Mills added the 85% the state will receive is categorized in "one block" and will go towards future opioid remediation efforts.
"So, you have the manufacturers making the drugs, then you kind of have the distributors that are distributing them out," Mills added. "In 2018, this was the second lawsuit we filed against the largest distributors in the nation. So, if you add all of those amounts up, we are at about $ 70 million that the state will see. Again, that is over a long period of time, but around $70 million -and that $70 million included what will go directly into the political subdivisions."
The $70 million does not include the bankruptcies filed by the companies, and Mills added that some amounts are hard to confirm at this time. She said the State is still waiting what the final numbers will be through bankruptcy proceedings, "But we do expect those bankruptcy proceedings to likely be in excess of $20 million or so altogether."
Heidi Hedberg was the final speaker of the media briefing. Hedberg is the Commissioner of the Department of Health. She explained part of the settlement agreements requires an advisory committee, whose duties include providing input and recommendations regarding remediation spending from the settling state's abatement account.
Per Governor Dunleavy's Advisory Council on Opioid Remediation, which Hedberg chairs, she stated there are three focus areas for that council: management and allocation of opioid remediation funds, processes or improvements for receiving input from communities regarding remediation strategies/response to specific opioid remediation needs, and finally implementing effective evidence-based approaches to opioid remediation state-wide.
Hedberg stated in the press release, "The state and a wide variety of partners across the state are stepping up efforts to provide resources for those struggling with addiction and opioid misuse, and to end the stigma so Alaskans can find treatment and begin healing. Every life matters. Every day is a new day. Start your path to recovery today and please connect with us if you need help or support."
Those seeking support for substance use disorder can find treatment through findtreatment.gov or by calling 1-800-662-HELP (4357). For more information, visit opioids.alaska.gov
Below are the legal complaints for reference:
Settlements linked below:
Teva & Allergan Settlements | National Opioid Settlement
Copyright 2022 KTVF. All rights reserved.