Gov. Dunleavy delivers 5th State of the State address
Hopes for bipartisanship and cooperation persist heading into second week of 33rd legislative session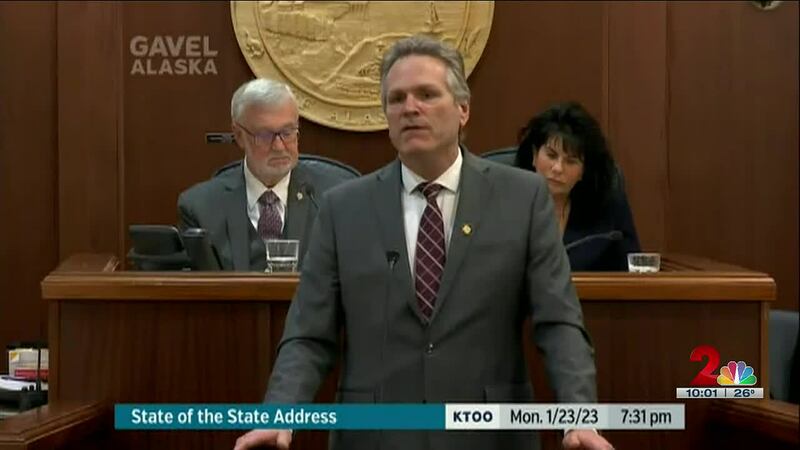 Published: Jan. 24, 2023 at 7:27 AM AKST
JUNEAU, Alaska (KTUU) - Gov. Mike Dunleavy's State of the State address Monday night carried an optimistic tone that resonated with the Senate bipartisan majority, which applauded the positive, upbeat, and forward-looking message underpinning the address.
With the 33rd Alaska Legislature now in its second week, Senate President Gary Stevens of Kodiak implied after the governor's speech that it appeared the governor is pushing for progress.
"In my estimation, the governor is more comfortable being governor," Stevens said. "He doesn't want to have another set-to where all we do is fight with each other and get nothing done."
Stevens elaborated on the governor's new approach to his role as Alaska's chief executive.
"He said clearly that he wants to see us make some progress this year," Stevens said. "And that requires not just us giving in to what the governor wants, but him working with us and finding common ground."
Dunleavy spoke about bolstering public safety and public health, in addition to reforming Alaska's consent law, mariculture — otherwise known as "marine farming" — carbon, and more, all while reducing the budget deficit.
The speech omitted specific information about Dunleavy's agenda for education, a controversial issue expected to generate debate throughout the legislative session.
"These initiatives require resources, but we are better positioned to fund them today, thanks to our work over the past four years," Gov. Dunleavy stated. "We've paid off hundreds of millions in tax credit debts, and our pension obligations are reduced thanks to sound investments. We've held agency spending in check, and we put some of last year's windfall into savings.
"... We have a chance in this session to change the course of Alaska's history."
Dunleavy said protecting Alaskan statehood and Alaska's right to develop its natural resources comprise a major part of building a better Alaska for generations to come.
"In many respects, we've been stereotyped as a land of fish and igloos, frigid temperatures, and fat bears," he said.
Sen. Bill Wielechowski of Anchorage, a member of the bipartisan majority coalition, said that the "devil is in the details," and awaits the specific legislation that the governor will present throughout the session, especially in regard to K12 education.
Copyright 2023 KTUU. All rights reserved.