North Pole Community Chamber of Commerce awards longtime North Pole resident and highlights NPHS program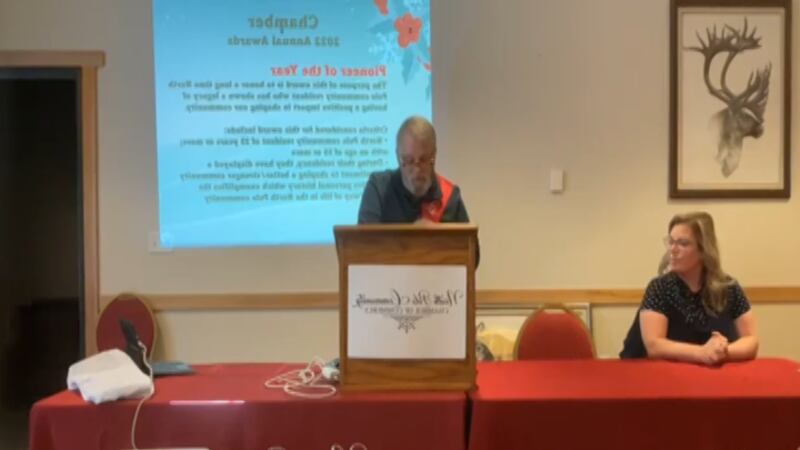 Published: Jan. 25, 2023 at 4:20 PM AKST
FAIRBANKS, Alaska (KTVF) - The North Pole Community Chamber of Commerce (NPCCC) met on Tuesday, covering a wide range of topics from upcoming events to business spotlights.
During the meeting, Mike Miller was given the first Pioneer of the Year award. This award is given to a North Pole community resident of 25 years or more and is over the age of 55. They must also have displayed a commitment to shaping a better and stronger community, with a positive personal history that exemplifies the way of life in the city.
Previously, this honor was part of the naming of the North Pole King and Queen. Because of some of the obligations in the community the King and Queen are expected to fulfill, the chamber thought it might be better to pick a pioneer of the year award to pay homage to the title.
Miller, owner of the Santa Claus House said during the ceremony he is ready to pass the reins down to the next generation to his daughter Carissa and Paul Brown. Miller said he is proud to have 4-generations in the family business.
"I have a number of grandkids working out at the store," he said. "I'm proud of what my folks have started out in the North Pole, and I am happy to be able to have been able to bring the legacy on a little bit. I know the legacy will continue."
He was awarded the Pioneer of the year for 2022.
Additionally, The North Pole Chamber's business spotlight highlighted North Pole High School (NPHS), with a focus on the Careers and Technology Program.
Principal of NPHS, Michelle Spillane, spoke to chamber members. "It is an honor to be here," said Spillane. "When I was asked to come, just the idea to be able to be a part of our community and get to know the greater North Pole area is something that we want to do as a staff, and I want to do as a professional."
After moving to North Pole In 1992, she explains she never left, and after getting her teaching certificate in 2003, she worked for the district and at North Pole High School before becoming the principal.
"It [NPHS] is part of who I am," she said. "I just absolutely love this high school, and I love the staff."
During the meeting, Spillane wanted to highlight the CTC program at NPHS. Some of the pathways in the program they are expanding include Auto and Computer Programming.
"We have had it in the past but had to take a pause," she explained. "So we have a teacher who is really excited to do Computer Programing. They have been designing apps for your phone, so, we are partnering with UAF (University of Alaska Fairbanks), with a brand-new grant for the next five years to work with our students." She said Computer Programming will also be incorporated with the grant.
They will also be expanding Culinary Arts, Drafting, Engineering, Health Sciences, and Internships.
She said students have opportunities to take part in the programs all four years of high school, with the goal of graduating with certifications and college credits.
Elizabeth Alexander has worked at NPHS for 18 years as an English Teacher. She is now taking over a class focused on work-based learning called "Internship."
"We are trying to get students out of the classroom and into the community to explore career opportunities," she said. "But we don't want them doing just internships, we want them to do mock interviews, job shadowing, the ideal thing is going to workplaces for a sustained amount of time."
She said this will set them up to enter the workforce and see what opportunities are available in the community. "We want our Alaskan students to stay in Alaska and fill these jobs," said Alexander.
Currently, there are 12 students in the program. "We are trying to find placements that are reactive to what they want to do."
Other topics included new businesses that are coming to the North Pole area such as Saigon Garden which is opening on February 23rd.
Other restaurants include Thai Cuisine Restaurant, Taco King, and Pizza Hut which is under construction at a new location.
Copyright 2023 KTVF. All rights reserved.