FDA approves over the counter sale of lifesaving overdose antidote
Naloxone will be available in stores, gas stations, and online by late summer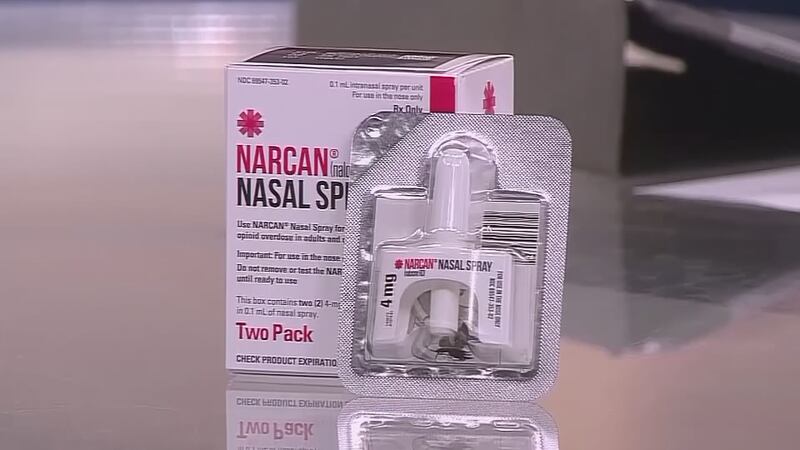 Published: Mar. 30, 2023 at 5:37 PM AKDT
FAIRBANKS, Alaska (KTVF) - The Food and Drug Administration (FDA) has just approved the sale of Naloxone, more commonly known as Narcan. The lifesaving nasal spray that can be used to counteract an opioid overdose.
Opioids are a class of drugs that come from, or mimic, natural substances found in the opium poppy plant. The Johns Hopkins Medicine website writes, "All opioids work similarly: They activate an area of nerve cells in the brain and body called opioid receptors that block pain signals between the brain and the body.".
Examples of opioids include morphine, heroin, codeine, oxycodone, hydrocodone, and fentanyl. Some use opioids because of the euphoria they can cause, but that can quickly result in addiction or opioid use disorder.
The Substance Abuse and Mental Services Administration explains that an opioid overdose can look like an extremely pale face that can be clammy to the touch. Along with that, a person's body could go limp, their fingernails or lips get a purple or blue color, and/or they start vomiting or making gurgling noises.
According to a report conducted by the Alaska Department of Health in 2021, there were a total of 253 overdose deaths in Alaska. Moreover, the overdose death rate was highest among those 25 to 34 years old, at 64.6 deaths per 100,000. Ages 35 to 54 fell closely behind at 63.4 deaths per 100,000.
The FDA has acknowledged that drug overdose persists as a major public health issue in the United States, which is primarily being driven by the synthetic opioid fentanyl. In an effort to combat the overdose epidemic, the FDA is hoping the approval of offering Narcan over the counter will help address the dire public health need. It will come in two 4 mg doses, in case the person overdosing does not respond to the first dose. It will be sold in places like drug stores, convenience stores, grocery stores, gas stations, and online.
Over the counter Narcan is projected to be available by late summer.
Copyright 2023 KTVF. All rights reserved.