Ready, Set, Go: preparing for evacuations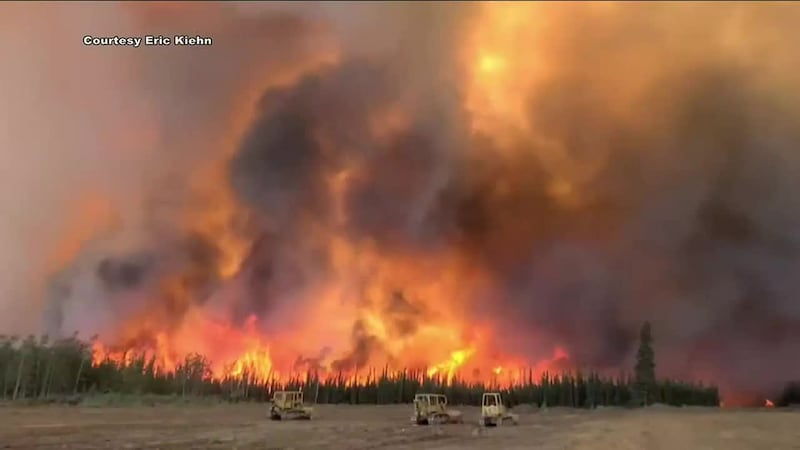 Published: Aug. 1, 2023 at 5:44 PM AKDT
FAIRBANKS, Alaska (KTVF) - Are you prepared to evacuate at a moment's notice if a fire was to break out in your neighborhood?
You should be aware that fires can pop up anywhere and anytime in Interior Alaska during wildfire season.
The Alaska Division of Forestry and Fire Protection encourages everyone in the state of Alaska to be familiar with the national "READY, SET, GO" program, a tool Alaskans use to stay prepared during wildfire season.
"If you live here in Fairbanks, and we've had several days of hot and dry or you're in an area where the weather service has issued a red flag warning, being ready, just knowing what you're going to grab before, before we elevate if you might have to leave is good standard practice," explains Rob Allen, Northern Region Fire Management Officer.
The Fairbanks North Star Borough Fire Emergency Evacuation Guide explains the READY, SET, GO levels.
Level 1 READY means to be ready for evacuation. There is a fire in your area.
Level 2 SET means to be set to evacuate and to be prepared to leave at a moment's notice.
Level 3 GO means to evacuate and leave immediately.
If you receive a Level 1 READY alert in your area, this means you should make preparations to get your affairs in order in case things take a turn for the worse. Preparation should include people, pets, pills, photos, personal computer back-up info and important papers. It is also recommended to prepare a 7-day evacuation kit and keep your vehicle fuel tank at least half full of gas. Creating a tree free perimeter around your house is also advised as well as setting up hose lines. Also have an outside point of contact to let someone know where you will be if the fire escalates and you have to leave suddenly.
A Level 2 SET alert means there is significant fire danger in your area and you need to be ready to evacuate at a moment's notice. You should have a go bag ready with clothes, important documents, and emergency supplies. If you have pets, it should consist of pet food, water and carriers ready to go. If you need to move livestock such as horses, pigs, goats, etc. or dog teams or anything that needs extra time to move you should evacuate now. Be sure to always let someone know where you are going.
A Level 3 GO alert means to evacuate NOW. Do not delay leaving to gather any belongings or to protect your home. This will be the last notice you will receive to leave. During an evacuation, roads can become congested with vehicles, dust and smoke, making an evacuation a slow process. Drive calmly and pay attention to emergency vehicles on the roads while following evacuation routes. Be sure to check in at an emergency shelter to let others know you are safe.
Visit RAVE ALERTS to sign up and receive wildfire and emergency alerts.
The Call Center number for additional information, when activated is 907-459-1308.
If you have problems "opting in" to wildfire alerts, email your name, phone number, and phone carrier to emergencyoperations@fnsb.gov
The number to call to report a wildfire in Alaska is 1-800-237-3633 or you can call 911.
While you may never encounter an evacuation situation or receive an alert, it is always good to be prepared.
Copyright 2023 KTVF. All rights reserved.