Sarkisian Wins Regional Championship in final 100 meters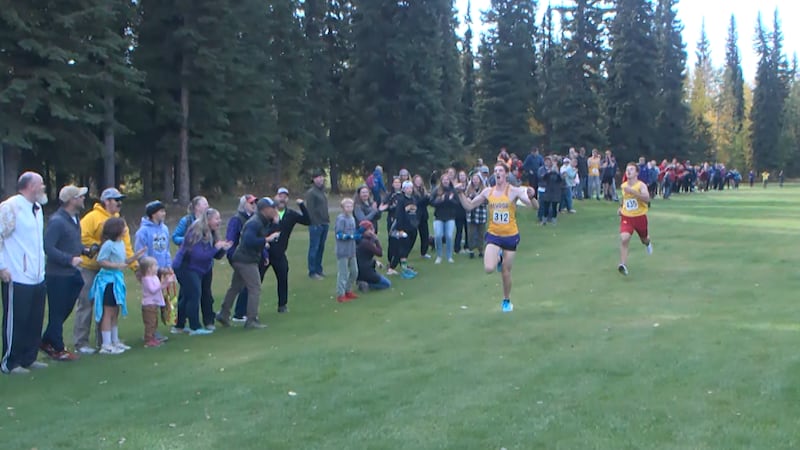 Published: Sep. 28, 2023 at 5:09 PM AKDT
FAIRBANKS, Alaska (KTVF) -The Cross Country Regional Championship took place Saturday, Sept. 25 at the Fairbanks Golf Club and it was a beautiful day for a race.
In the Division One men's race, it would be a battle from the jump between Tucker Sarkisian and Cirdan Vonnahme with both getting out to a quick lead. Vonnahme would keep his lead until the last 100 meters out where Sarkisian would drop into sixth gear for his final kick to take home the regional championship.
The newly crowned champion talked about his training and need to win after brining home the Regional Championship his senior year.
"Oh yeah, yeah I've been training for four years, I always came in like third or fourth and this year I was like I'm going to push it and I wanted to win," said Tucker Sarkisian, the Men's Region Six Division One Cross Country Regional Champion.
In the women's Division One and two combined race, it would be another West Valley versus Lathrop show down, and that would stay true into the second lap with Finstad and Bailey breaking away from the pack.
Finstad would finally break away from Bailey opening up a twenty six second gap, and the Lathrop freshman in her first regional championship would take home first place.
Pride and excitement, would be the two words to describe Finstad after bringing home a regional championship in her regional debut.
"I'm really excited, I'm really proud of myself. I was really scared before but I'm feeling a lot better now, I mean I'm tired but yeah," said Solvieg Finstad, the Women's Region Six Division One Cross Country Regional Champion.
The Division Two men's race started at 12:30 p.m. and Rafe Caruther from Valdez would take home the win on the men's side and Reagan Pearson from Delta would place first on the women's side.
The Division Three Schools from Region Two, raced with the JV teams from both division one and two with those races starting at 11 a.m. and 11:45 a.m. to keep things timely.
For the Second Region, Floyd Widsoe from Cordova would grab first for the men's and Taylor Eddington from Tri- Valley would finish first for the women.
Region Six Division One-
Mens
1st- Tucker Sarkisian (LHS), 16:35/ 2nd- Cirdan Vonnahme (WVHS), 16:37/ 3rd- Nicholas Hecht (WVHS), 17:03
Womens
1st- Solveig Finstad (LHS), 20:39/ 2nd- Anna Bailey (WVHS), 21:05/ 3rd- Carly Pilon (LHS), 21:22
Region Six Division Two-
Mens
1st- Rafe Caruthers (Valdez), 17:11/ 2nd- Anthony White (Delta), 17:31/ 3rd- Tristin Nicholson (Monroe), 17:51
Womens
1st- Reagan Pearson (Delta), 21:58/ 2nd- Anya Simard (Monroe), 22:07/ 3rd- Miranda Wilkerson (Monroe), 22:09
Region Two Division Three-
Mens
1st- Floyd Widsoe (Cordova), 17:40/ 2nd- Tegan Hesse (Cordova), 18:01/ 3rd- Andrew Severs (Glennallen), 18:34
Womens
1st- Taylor Eddington (Tri-Valley), 20:10/ 2nd- Adelyn Mccorison (Ninilchik), 21:48/ 3rd- Sadie Fry (Cordova), 22:14
Region Six Division One-
Mens JV
1st- Merrick Zook (WVHS), 18:34 /2nd- Thomas Armbruster (WVHS), 18:53/ 3rd- Harper Obrien (WVHS), 18:57
Womens JV
1st- Lorraine Mullins (LHS), 23:46/ 2nd- Amelia Cochran (WVHS), 24:59/ 3rd- Helena Peterson (LHS), 25:18
Region Six Division Two-
Mens JV
1st- Christopher Phelan (Delta)/ 2nd- Joseph Yanish (Monroe), 22:19/ 3rd- Anthony Montoya (Delta), 22:52
Copyright 2023 KTVF. All rights reserved.