UAF celebrates Indigenous Peoples' Day with activities, workshops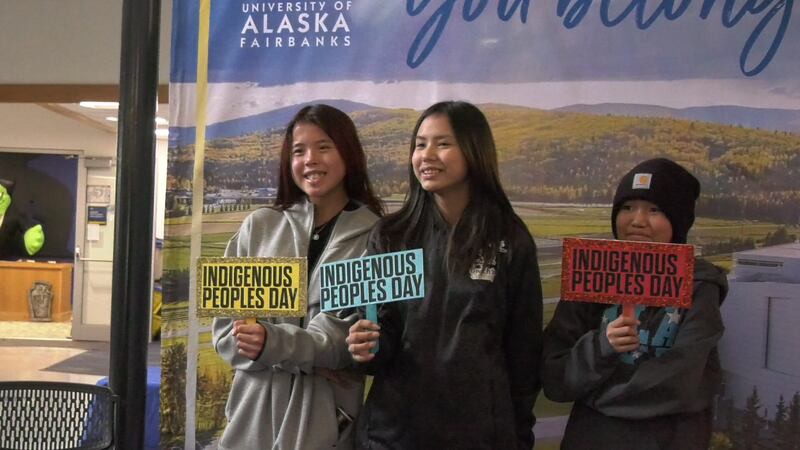 Published: Oct. 9, 2023 at 6:23 PM AKDT
FAIRBANKS, Alaska (KTVF) - Monday, October 9 is Indigenous Peoples' Day, a yearly celebration of Alaska Native culture as well as Indigenous culture from around the U.S.
To commemorate the day, the University of Alaska's Troth Yeddha campus in Fairbanks put on a series of activities and events highlighting Indigenous cooking, clothing and dance, among other things.
The festivities included a fry bread fundraiser, fish skin sewing workshop, and a demonstration of native games.
Community members also gathered to participate in a dance workshop and a food tasting.
Planning for the event began a year ago. The Wood Center was chosen as the location for the event because of its central location on Troth Yeddha campus.
According to Tia Tidwell, Assistant Professor of Alaska Native Studies at the University of Alaska Fairbanks, "We decided to have student clubs be the center of what we're doing for Indigenous Peoples' Day today, and so we have Beading Club in the background teaching a beading workshop. We also have Native Games is going to be doing a Native Games workshop."
Brianna Gray, Chair of the Chancellor's Advisory Committee on Native Education explained, "Indigenous Peoples' Day is really a time to reflect and honor Indigenous peoples' past and present, on our rich history and all the amazing things that we have done as we continue to heal and move forward and really acknowledge who we are."
The celebrations are set to continue beyond the day of the holiday itself, with the annual "Rock Your Moccs" week being held from October 9-13, during which community members are invited to take a photo of themselves wearing their moccasins and post it to social media.
Copyright 2023 KTVF. All rights reserved.