Nanooks with a solid start in Huskies road trip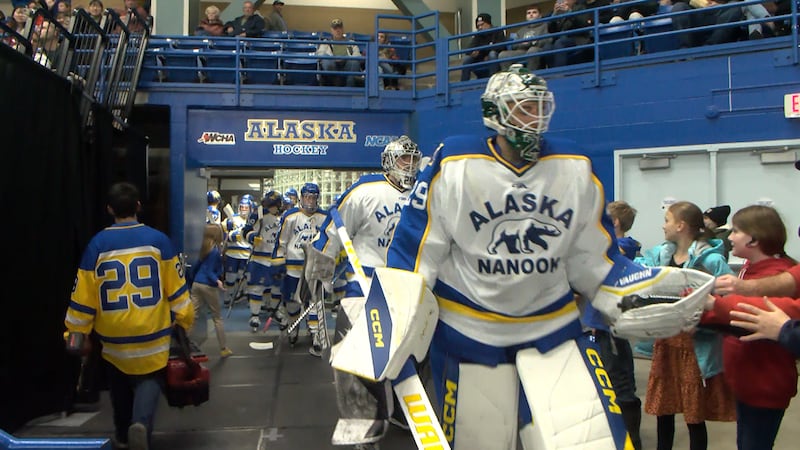 Published: Oct. 17, 2023 at 6:02 PM AKDT
FAIRBANKS, Alaska (KTVF) - The Nanooks took on the ninth ranked Michigan Tech Huskies in the Upper Peninsula of Michigan at the MacInnes Student Ice Arena. Both team were looking for their first win of the season and there was action early.
The Huskies struck first off a broken play and rebound. After the first period, the Nooks dominated the second and came storming back three minutes in as a shot from Braden Birnie was tipped by Brayden Nicholetts to tie it up at one.
Just over a minute later, and Brady Risk robbed a defenseman blind and the found the Captain, Harrison Israels, sitting on the back porch who fired it home to grab the lead, two to one.
Later in the second on the powerplay, a shot from Avrils Bergmanis got tipped by Harrison Israels for his second of the game, and fourth goal of the year.
Three minutes in to the third, and Avrils Bergmanis came flying through the crease and Anton Rubtsov finished the play to put the Nooks up by three. The play came under review, but the play was confirmed as a good goal.
After taking the four to one win Friday night for their first win of the season, the Nooks were looking for the series sweep Saturday night.
It would be a back in forth seesaw battle through the first period, but the Huskies struck first again with a 1:42 left in the first period.
The second was dominated by the Nooks for the second night in a row, as Braden Birnie found Brayden Nicholetts in slot who buried it to tie the game up at one, 1:33 in.
Eleven minutes later, the Nooks were on the power play and Brady Risk found Anton Rubtsov sitting back door, who snagged his second goal of the weekend grabbing the lead for the nooks.
Four minutes into the third period and the Huskies captain scored again to tie it up at two; The game went into overtime and after chances back and forth it stayed tied.
Due to the fact the Nanook's are independent, all games that still tied after an overtime period will be officially recorded as a tie for their record. So with the win Friday night and tie Saturday, the Nooks took home three out of four possible points for the weekend.
The Interior's team will stay on the Huskies road trip as they head to Minnesota to take on the St. Cloud State Huskies who are currently ranked 20th overall.
Highlights from the weekend
Harrison Israels - 2 Goals/ Anton Rubtsov - 2 Goals/ Brayden Nicholetts - 2 Goals
Brady Risk - 3 Assist/ Avrils Bergmanis - 2 Assists/ Cade Neilson - 2 Assists/ Braden Birnie - 2 Assists
Pierce Charleson - 1 Win and Tie, 125 minutes, 50/53 .943 SV%
Copyright 2023 KTVF. All rights reserved.