Nanooks Break out the Brooms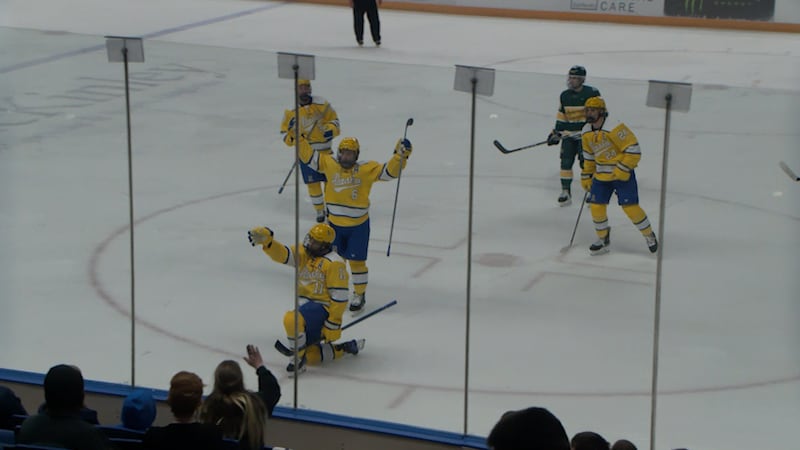 Published: Nov. 15, 2023 at 6:53 PM AKST
FAIRBANKS, Alaska (KTVF) - UAF's hockey team took care of business against Stonehill College this past weekend, completing the sweep to move to six wins on the season.
Game one saw a scoreless first period, in the second period Caleb MacDonald scored the first goal of his collegiate career and the first goal of the game.
In the third, Stonehill tied it up at one, and Anton Rubtsov would take back the lead for the Nanooks a minute and half later.
With just over five minutes left in the game, Jonny Sorenson sealed it on the powerplay for the three to one win.
Game two saw the Nooks offensive power wake up to break out the brooms.
The team scored early and often throughout the first and second period. Rubtsov, Sorenson, Xavier Jean-Louis, and Broten Sabo scored in the first period.
Stonehill scored first in the second period on the powerplay, but the Nooks went on to score another four unanswered.
Jean-Louis grabbed his second of the game, Payton Matsui and Brady Risk followed by scoring just over a minute apart, and T.J. Lloyd hammered the final nail in the coffin for the eight to one win in the second period.
Stat Highlights for the Weekend
Caleb MacDonald - 1 G, 1 Ast/ Anton Rubtsov - 2 G, 1 Ast/ Jonny Sorenson - 1 G, 2 Ast/
T.J. Lloyd - 1 G, 3 Ast/ Chase Dubois - 1 Ast/ Harrison Israels - 2 Ast/ Brady Risk - 1 G, 1 Ast
Cade Neilson - 1 Ast/ Broten Sabo - 1 G/ Payton Matsui - 1 G, 1 Ast/ Xavier Jean-Louis - 2 G
Chase Dafoe 3 Ast
Pierce Charleson - 2 W, 108:27 MIN, 28-30, .933 SV%/ William Habley - 11:29 MIN, 2-2
Copyright 2023 KTVF. All rights reserved.