Morning News Anchor
Fairbanks, Alaska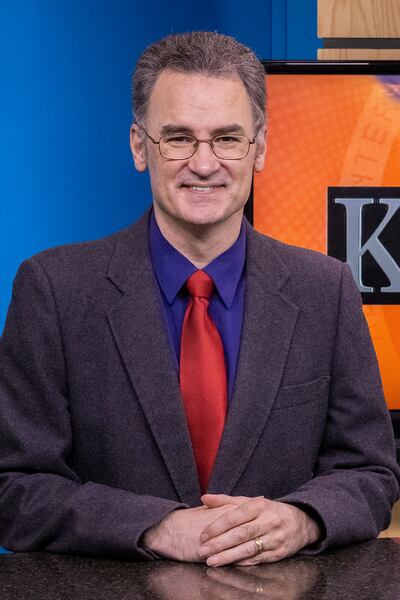 I've had the good fortune to be around broadcasting my entire life thanks to my dad, Jay Lewis. Dad's been a fixture in Fairbanks broadcasting for about 40 years, and blazed great trail that's frankly been fairly easy for me to follow -- just had to sound like Jay, and my chances would be good!
I can remember as a kid when KTVF-TV and KFRB Radio (now KCBF, I think) were co-located downtown in the Northward building. If my folks were working late, I'd sneak into the KTVF studio and throw paper airplanes around, hoping that Augie Hiebert (the founder of KTVF) wouldn't catch me. One night, he did! But being Augie, he didn't get mad. Instead, he asked me to show him how I was making that type of plane!!
Most of my experience has been in radio - a field I entered professionally working for Dad at KAYY (now Magic 101.1) at age 14. And that's been my career ever since: at KAYY till 1992 (I think they still do my Sunday Brunch program), and then at KLAM-AM in Cordova, which my wife and I bought in 1994. In 1997, we put KCDV-FM on the air in Cordova (would you believe Augie came down for the launch??), and since then, we have owned and operated both stations.
1997 was a big year because that's also when our son was born. And for several months of his freshman year of high school, he expressed a desire to make himself eligible for consideration by the USAF Academy. Cordova has a wonderful high school; but given its size, and despite the best efforts of their dedicated staff, the chances of our son getting all the classes the academy required were slim. As it turns out, we had been returning to Fairbanks (where I was born and raised) each summer since 2008 so I could serve as a narrator on the Riverboat Discovery (yep, following in Dad's footsteps again). Narrating that trip has been one of the great highlights of my life, and I'm still honored to have been asked to join that crew.
But in summer of 2012, smack in the middle of trying to figure out our son's school issue, I ran across a Facebook ad for an anchor slot at KTVF. Not really thinking I had much of a shot, I decided to go for it. And I can't think of too many other times where I have been so glad to have a self-assessment be wrong. So now, my family enjoys life in Fairbanks -- a homecoming for me, and a new adventure for all of us. My wife of 25 years (2014) is the love of my life, my best friend, and my cheerleader. Every time I think I can't, she assures me I can.
And so, with thanks to her, my folks, and the staff of KTVF, I am honored to have been given the privilege of joining this excellent team of professionals. The Newscenter 11 team cares deeply about what they do, and I hope that all of us -- rookies and vets -- can continue to serve Fairbanks with the kind of dedication and integrity that this community deserves. So... I hope you'll get up early and join me weekday mornings at 6:30 for the Fairbanks Morning News!!
UPDATE: The Air Force dreams, and all of our lives, came to a screeching halt when, on April 12th of 2013, our son's heart stopped cold at age 15. There was no warning, no indication of trouble. Thankfully, citizens on the scene knew CPR and saved his life; and after some tense weeks in ICU, we got our son back. Even though he will be considering other career paths, he is grateful to be alive, and we will be forever grateful to those heroic angels who were willing to act instead of standing on the sidelines and watching him die. Thus, as you watch the Fairbanks Morning News, you will continue to see me take advantage of every opportunity I can to remind folks to learn CPR -- which you can do in about 1-2 minutes at http://heart.org/cpr (click the "disco" link). Thank you for taking just that little bit of time to learn this life-saving skill, because you literally CANNOT know when you might need it.