California family wins trip to Fairbanks to unearth treasure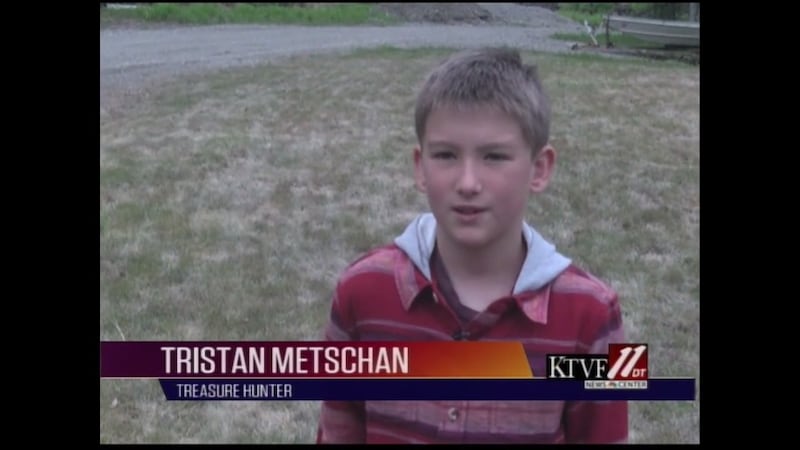 Published: May. 24, 2017 at 6:27 PM AKDT
A family from Novato, California won a chance to unearth buried treasure here in Fairbanks.
Fourth grader Tristan Metschans and his sister, Charlotte, won an all-expenses-paid trip to Fairbanks to dig up the treasure, but they had to earn the trip by solving various problems as part of an after school program called Brain Chase.
That activity is the brain child of Allan Staker and his wife, who wanted stimulating activities for their five children after school and during the summer. Brain Chase requires kids to solve problems to gain coordinates which lead to buried treasure.
In past years, the treasure has been found in the south of France, New Orleans, and in Japan near Mt. Fuji.
Out of several thousand kids who participated in the after school program, the Metschans were the first to find the coordinates within two miles of the treasure.
This year, the prize was a custom made mask of a female Japanese warrior, Tomoe Gozen, and a scholarship of $10,000.
Tristan Metschan talked about how he won this grand prize, while Staker added to the fun with a more detailed description of the program.
"We're here to dig up treasure, a buried treasure, for Brain Chase," said Metschan. "We took all the clues that we found in their videos and pieced them together, and all the clues led to this spot."
"It's like a virtual summer camp that they can do anywhere around the world," said Staker. "Kids log in, and for six weeks they complete different academic electives, like Khan Academy, Rosetta Stone, and they choose different programs they want to do. As they complete them each week, they unlock these videos that tell this animated story of a big treasure hunt. We actually bury a real treasure somewhere on planet Earth, so the first kid who solved it correctly and puts the pin on the map within two miles wins. They win a trip around the world to dig up the treasure. They get to keep the golden prize, and they get a $10,000 scholarship."