Man who murdered Fairbanks Police Officer sentenced to 119 years in prison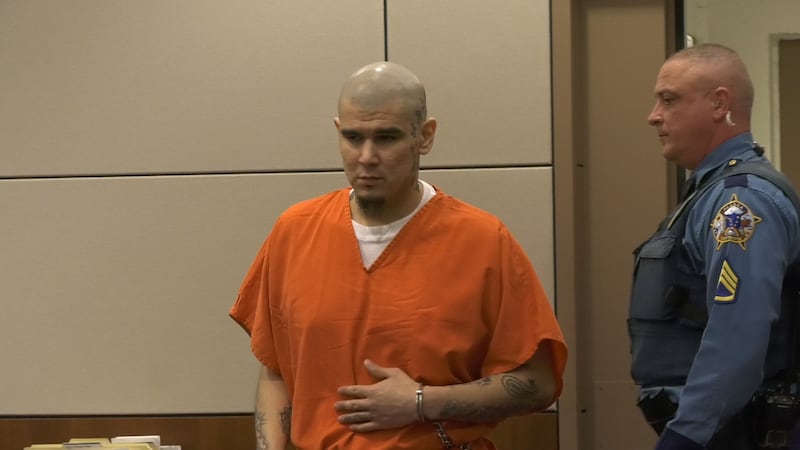 Published: Jan. 28, 2020 at 3:28 PM AKST
Anthony Jenkins-Alexie has been sentenced to 119 years in prison for shooting and killing Fairbanks police officer Alan Brandt in 2016. Judge Michael McConahy issued the sentence in a packed court on Tuesday. Many current and former members of law enforcement as well as former District Attorney Gregg Olson attended the hearing.
Judge McConahy listened to sentencing arguments from Allen's brother Aaron Brandt. He said that Allen was a man of integrity and that whileJenkins took away someone special from the world, Allen would have forgiven him.
"Allen was confident in his faith and those who knew Allen will be assured of where Allen will spend eternity. As for an earthly penalty for your crimes Mr. Alexie, if 119 years is a high penalty, there cannot be too great a penalty for destroying such a great star as Allen Brandt," said Aaron Brandt.
Former Fairbanks Police Sergeant Peyton Merideth spoke on behalf of the law enforcement community.
"I believe Allen would forgive you in the eyes of God because he believed in forgiveness. But I also know that Allen believed in being punished for your sins and that there is a difference between being forgiven in the eyes of the Lord and Christ and being punished for your actions. They are two different things, and I take comfort in knowing that Allen while offering forgiveness would want you punished for what you have done," Merideth said. He went on to say that Jenkins has showed no remorse for his actions.
Jenkins also spoke at the hearing. He apologized to his family and said he should have known better. He also offered what appeared to be an apology to the Brandts but attempted to place the blame of Brandt's death on the doctors.
"I do own up to all my mistakes. I was always raised to be a man, it's always been me against the world and I always owned up to my everything wrong I did in my life. Today I am letting everybody know here in this courtroom, the citizens of Fairbanks, Alaska, throughout Alaska, and across the nation, I own up to the assault one, the vehicle theft and etc. but not to any murder or attempted murder," Jenkins said. He also chastised police officers for killing his family and said that no one ever holds them accountable.
Judge McConhy also heard sentencing arguments from District Attorney Joe Dallaire and Jenkins public defender Justin Racette.
Jenkins was convicted of shooting and killing Alan Brandt in March of 2019. He was found guilty of first degree murder, two counts of second degree murder, one count of attempted murder, one count of first degree assault, one count of vehicle theft, one count of weapons misconduct and one count of evidence tampering. He was acquitted of an additional count of evidence tampering. The jury also found a special finding of killing a uniformed police officer which carries a mandatory 99-year sentence. All of the murder and assault charges where consolidated under the first degree murder conviction.
Jenkins attacked Brandt in downtown Fairbanks late on the night of October 16, 2016. Video from the incident shows Jenkins shooting Brandt striking him multiple times. Brandt was expected to recover, even appearing at City Council after the attack but died from complications from the attack.
Judge McConahy said in his ruling that Jenkins had showed no remorse. Racette had argued that sentences for the counts of weapons misconduct, vehicle theft and evidence tampering should run concurrently, meaning they would not add to the overall time. Dallaire argued that they should run consecutively for a total sentence of 119 years. Judge McConahy ruled in favor of the prosecution.
Due to the extensive sentence it is unlikely that Jenkins will ever have the chance to get parole or probation. The 99-year sentence for the murder count is not eligible for any time of parole. The lesser charges are eligible for parole and probation.
Original Story:
Anthony Jenkins-Alexie was
of murdering police Sgt. Allen Brandt in April of 2019. His sentencing hearing was held Tuesday in the Rabinowitz Courthouse here in Fairbanks.
Jenkins-Alexie has been sentenced to 119 years in prison and is ineligible for parole or probation on the murder and assault charges. Although he is still eligible for parole on some of the lesser charges, the severity of his sentence will prevent him from ever being released from prison.
This is a developing story and we will update this story once more information is released.
Copyright 2020 KTVF. All rights reserved.