GARDENING TIPS: Entering Competition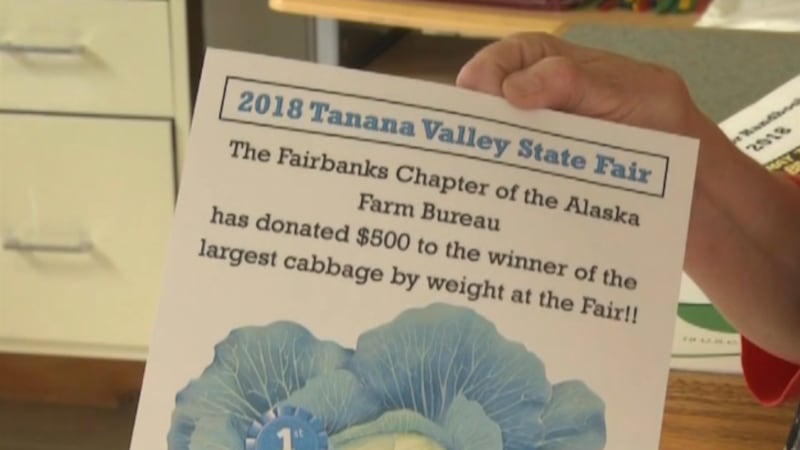 Published: Jul. 20, 2018 at 6:23 PM AKDT
BELIEVE IT OR NOT, THE TANANA VALLEY STATE FAIR IS RIGHT AROUND THE CORNER.
TONIGHT IN OUR GARDENING TIPS SEGMENT, WE'LL SHOW YOU HOW TO ENTER YOUR CROPS INTO COMPETITION.
THE TANANA VALLEY STATE FAIR STARTS FRIDAY AUGUST 3RD. I'M JULIE RILEY AND I'M OVER AT THE FAIR OFFICE TO GET MY FAIR ID NUMBERS SO I CAN FILL OUT MY FAIR EXHIBITOR TAGS. THIS YEAR I'D LIKE TO ENCOURAGE EVERY FARMER AND GARDNER TO MAKE ONE ENTRY IN FLOWERS AND VEGETABLES.
THE FAIR MAKES IT EASY, YOU CAN COME INTO THEIR OFFICE, AND GET YOUR ID NUMBER, OR YOU CAN CALL 451-5553, AND THEY'LL GIVE TO YOU OVER THE PHONE.
SO IF YOUR NEW OR HAVEN'T ENTERED THE FAIR FOR 3 YEARS THISIS SOMETHING YOU'LL NEED TO DO SO THAT YOU AN GET YOUR TAG.
ITS IMPORTANT TO CHECK THE VISITOR GUIDE BECAUSE THERE ARE DIFFERENT ENTRY DAYS. AND AGAIN WHO YOU ARE WHATS YOUR ENTRY.
IF YOUR 16 OR YOUNGER YOUR ENTRY DAY IS THE DAY BEFORE THE FAIR STARTS ON AUGUST 2ND. 4 H ER'S, HAVE A DIFFERENT ENTRY DAY. THE ADULTS FOR VEGETABLE, FLOWERS, AND FRUITS, IS TUESDAY AUGUST 7TH.
BUT WHAT I'M MOST EXCITED ABOUT IS THE GIANT CABBAGE WEIGH IN.
ENTRY DAY FOR THIS BIG DAY IS SATURDAY AUGUST 4TH.
SO GIANT CABBAGE WEIGH - IN IS SPONSORED BY THE FAIRBANKS SOIL AND WATER CONSERVATION DISTRICT. BUT, THIS YEAR THE ALASKA CHAPTER OF FARM BUREAU HAS PUT UP A 500 DOLLAR FOR THE HEAVIEST CABBAGE. CHI-CHING!
IF YOU'VE GOT OTHER BIG VEGETABLES, THEY GO INTO THE NOVELTY VEGETABLE SECTION ON AUGUST 7TH.
JOIN ME NEXT WEEK WHEN WE'RE STILL AT THE FAIR IN FRONT OF ONE OF THEIR BEAUTIFUL ANNUAL FLOWER BEDS TALKING ABOUT MUTIPLE USES.
GARDENING TIPS IS BROUGHT TO YOU BY MIDNIGHT SUN FAMILY MEDICINE. A PROUD PARTNER OF MOMS EVERYDAY.