GARDENING TIPS: How to prepare for first killing frost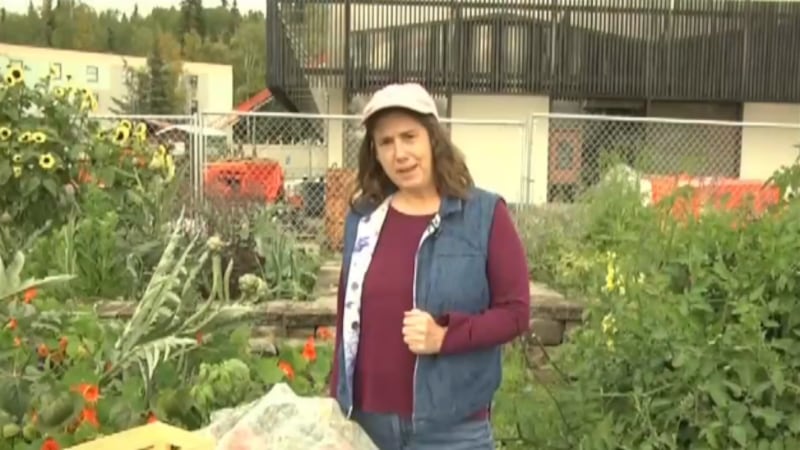 Published: Aug. 31, 2018 at 9:58 PM AKDT
THE CHILL IN THE AIR TODAY WAS A POSSIBLE SIGN THAT THE WEATHER PATTERN IS BECOMING COOLER, AND FROST COULD BE RIGHT AROUND THE CORNER.
TONIGHT IN OUR LAST INSTALLMENT OF GARDENING TIPS, WE SHOW YOU HOW TO PREPARE FOR THE FIRST KILLING FROST.
I'TS A BEAUTIFUL FALL DAY HERE ON THE UAF CAMPUS, AND I'M HERE WITH MIKE SHULTZ BEHIND THE CAMERA, SO WE'VE GOT TO TALK ABOUT THE WEATHER, AND WHAT YOU SHOULD DO IF THE TEMPERATURES ARE GOING TO DROP DOWN BELOW 32 DEGREES.
I'M JULIE RILEY WITH THE UAF COOPERATIVE EXTENSION SERVICE, AND THIS IS OUR LAST GARDENING SEGMENT OF THE YEAR.
SO ITS TIME TO BEING IN THE BASIL. BASIL IS FINISHED, ITS GOING TO FREEZE, BEFORE IT GETS TO 32 DEGREES.
SOME OF THE OTHER PLANTS AND CROPS YOU'RE GROWING WILL BE FINE.
PANISIES MIGHT POKE OUT OF THE SNOW AND STILL BE ALIVE.
BUT MIKE TELLS ME WERE NOT GOING TO GET COLD TEMPERATURES CONSISTENTLY FOR AWHILE YET. SO YOU STILL MAY HAVE TIME TO RIPEN THOSE TOMATOES THAT'S CLOSE TO READY TO GO WHILE IT'S STILL ON THE VINE.
SO PAY ATTENTION TO THE EVENING WEATHER REPORT, AND WHEN TEMPERATURES ARE GOING TO DIP, YOU CAN COVER SOME OF THOSE FROST SENSITIVE PLANTS.
YOU CAN USE THAT SAME FLUFFY ROW COVER THAT YOU USED THIS SPRING TO HARDEN OFF YOUR SEEDLINGS.
SO IN THIS CAMPUS GARDEN I'VE GOT THESE THAT WOULD GO DOWN WITH THE FIRST FROST. THE NASTURTIUM.
BROCCOLI WOULD BE JUST FINE, BUT WITH THE FLOATING ROW COVER, OR BLANKETS, OR CARDBOARD BOXES, JUST PAY ATTENTION TO THE WEATHER REPORT, AND GO OUT AND COVER UP WHATEVER IS GOING TO BE SENSITIVE TO THE FROST.
I'D LIKE TO THANK MIDNIGHT SUN FAMILY MEDICINE FOR SPONSORING THIS YEARS GARDENING TIPS.
GOOD LUCK IN GETTING YOUR HARVEST IN, PAY ATTENTION TO THAT EVENING WEATHER REPORT, AND IF YOUR NOT TIRED OF GARDENING JOIN ME FOR THE MAST GARDNER COURSE IN OCTOBER.
GARDENING TIPS IS BROUGHT TO YOU BY MIDNIGHT SUN FAMILY MEDICINE, A PROUD PARTNER OF MOMS EVERYDAY.