Gardening Tips: Alaska Wild Iris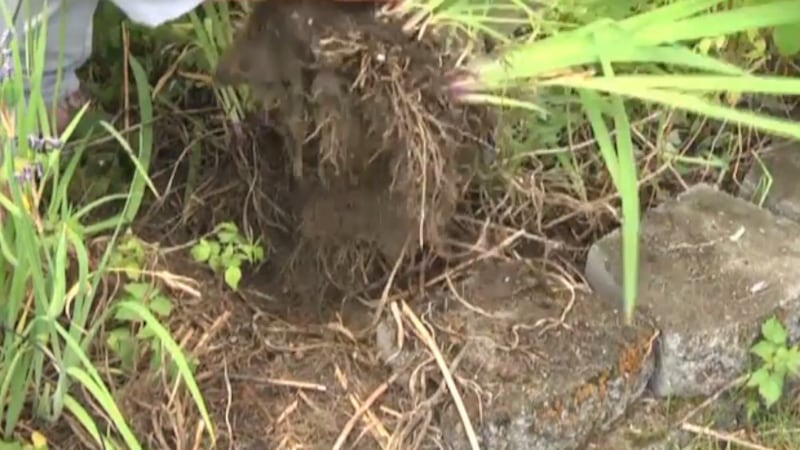 Published: Jul. 13, 2018 at 8:26 PM AKDT
ONE VARIETY OF FLOWER GROWING HEARTILY IN THE INTERIOR RIGHT NOW IS THE IRIS.
TONIGHT IN OUR GARDENING TIPS, WE'LL SHOW YOU HOW YOU CAN ENSURE THEY COME BACK EVERY YEAR.
ALASKA WILD IRIS ARE REALLY AMAZING. THEY GROW IN THE WET, THEY GROW IN THE DRY, AND JUST ABOUT EVERY ALASKA GARDENER HAS OUR NATIVE IRIS ATOSA.
TODAY I WANTED TO TALK ABOUT DIVIDING. I'M JULIE RILEY WITH THE UAF COOPERATIVE EXTENSION SERVICE, AND USUALLY PERINNIAL FLOWERS ARE DIVIDED IN THE SPRING WHEN THEY ARE JUST POKING UP OUT OF THE GROUND.
SPRING BLOOMERS OR JUNE BLOOMERS LIKE OUR NATIVE IRIS, A GOOD TIME TO DIVIDE THEM IS RIGHT AFTER THEYR'E DONE FLOWERING. OTHERWISE YOU WILL INTERFERE WITH THE BLOSSOMS.
SO THE FIRST THING YOU DO IN THIS PROCESS IS TO REMOVE ANY OF THE FLOWERING STEMS.
YOU DON'T WANT THEM MAKING SEED PODS BECAUSE THAT REQUIRES A LOT OF ENERGY.
SO THE REASON TO DIVIDE IS THAT YOU'VE GOT A PLANT THAT IS SO OLD THAT IT'S NOT MAKING BLOSSOMS ANYMORE. ANOTHER REASON TO DIVIE IS BECAUSE YOU WANT MORE PLANTS. YOU MIOGHT HAVE A SPECIAL VARIATION OF VIOLET OR BLUE. AND DIVIDING WILL ALLOW YOU TO SHARE YOUR FAVORITE IRIS WITH YOUR FRIENDS.
THE TANANA VALLEY FAIR IS RIGHT AROUND THE CORNER, AND NEXT WEEK WE'LL TALK ABOUT HOW YOU ENTER YOUR FLOWERS AND VEGETABLES.
GARDENING TIPS IS BROUGHT TO YOU BY MIDNIGHT SUN FAMILY MEDICINE, A PROUD PARTNER OF MOMS EVERYDAY.