UPDATE: Delta provides apology to customers re: Fairbanks Airport emergency landing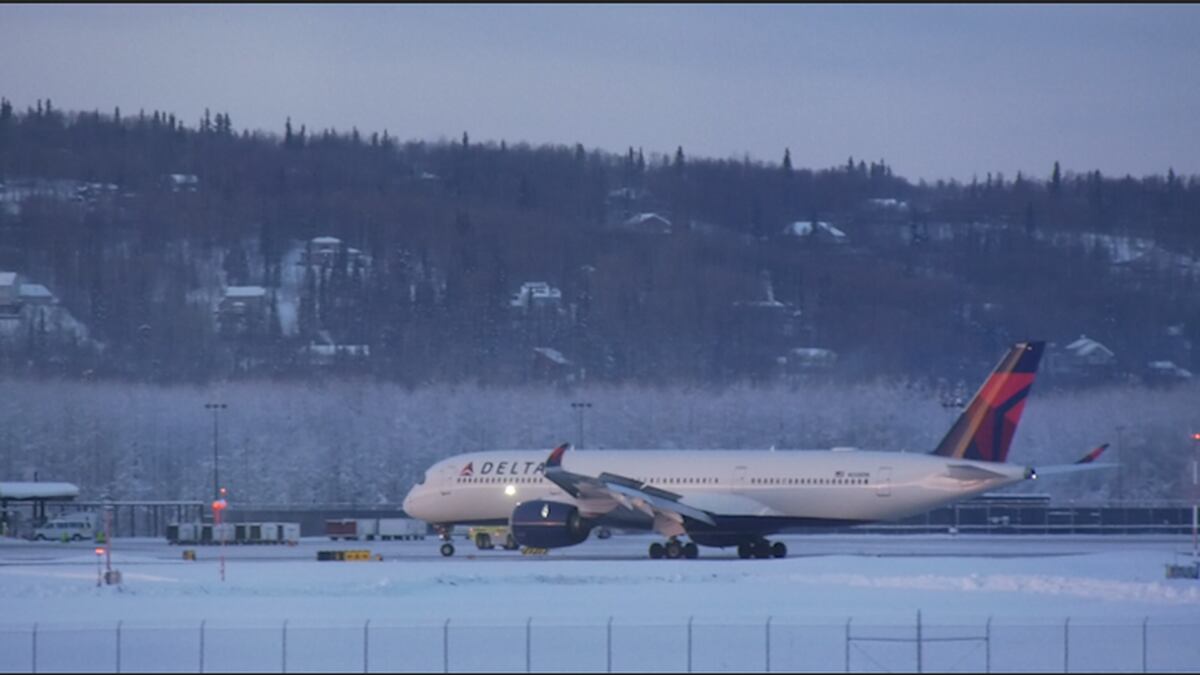 Published: Jan. 21, 2020 at 3:48 PM AKST
UPDATE: Delta Airlines released a statement Wednesday in relation to the emergency landing of flight 159 at Fairbanks International Airport Tuesday afternoon.
In the statement they apologize to their customers for the diversion following a 'potential maintenance issue'. It continued on to say that all customers have been reaccommodated on an alternate aircraft to their final destination.
Maintenance technicians are currently evaluating the original plane in the hopes of determining the source of the malfunction.
UPDATE: Fairbanks International Airport sent out a press release at 5:20 p.m. Tuesday evening that included the following information:
"At approximately 2:15 p.m., Fairbanks International Airport (FAI) was notified that a Delta Airlines Airbus 350-900 was experiencing mechanical difficulties with an engine and would need to make an emergency landing at FAI. The plane originated in Detroit and was en route to Seoul, South Korea.
The aircraft landed safely at FAI at 3:46 p.m. with 189 passengers and crew on board. FAI Police and Fire and the University Fire Department were on standby. No other flights were impacted by the landing.
The diverted passengers will overnight in Fairbanks. Passengers are being cared for at the terminal while they wait for luggage. FAI staff is working with Delta Airlines to ensure they have safe transportation and [are working] with Explore Fairbanks to coordinate lodging.
Delta Airlines has a replacement plane on the way, the diverted passengers will resume their trip tomorrow morning.
FAI extends a warm welcome to these passengers, despite the surprise diversion and the -14 degree temperatures. A special thanks goes to University Fire Department and Explore Fairbanks for immediately assisting the airport."
ORIGINAL STORY: Delta flight 159, an Airbus model A350, is experiencing mechanical issues and will be making an emergency landing at Fairbanks International Airport at approximately 3:45 p.m. Tuesday afternoon. It cannot be officially verified but KTVF is hearing over police scanners that engine 2 is currently out.
Ground crews are at the airport and fully prepared for the arrival. The flight left Detroit with an original destination of Seoul, South Korea before the flight was diverted to Fairbanks.
According to scanners the plane has approximately 6 hours' worth of fuel left before they need to land. We cannot confirm exactly how many passengers are currently on the flight but the Airbus A350 model planes hold between 250-300 passengers at capacity.
Reports from the scene are indicating that the plane landed without incident on runway 2.
We will update this story as more information becomes available.
Copyright 2020 KTVF. All rights reserved.