Mariachi Band travels to Fairbanks, applies for college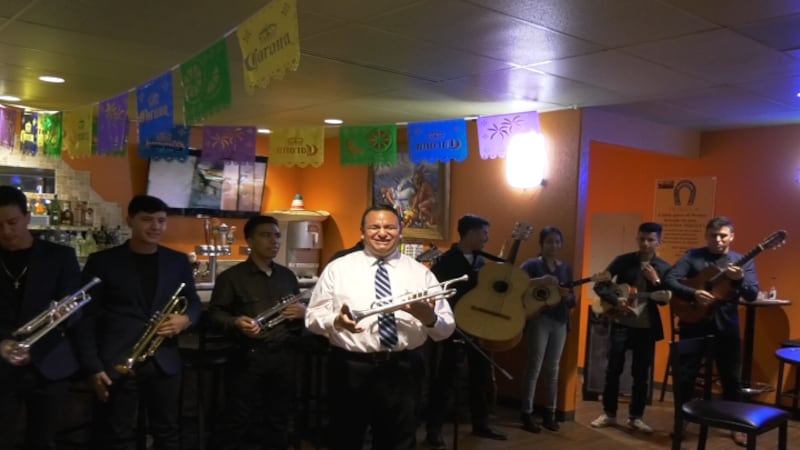 Published: Oct. 25, 2019 at 4:38 PM AKDT
The nationally recognized Mariachi Program, 'Mariachi Huenachi' has traveled to Alaska to bring Latin Culture to Fairbanks.
Their Washington state based program currently has over 300 participating students ages 9 to 18, bringing 11 of their students to Fairbanks to perform in the Encanto Northern Lights Concert at the University of Alaska Fairbanks. The Mariachi Program director Ramon Rivera explained they were happy that UAF reached out to recognize its Latino community with traditional music.
"It's a folk music. It includes vihuela, a guitar, a violin, a trumpet, and a lot of singing. It'll be a great event. It's happy music. I'm so honored to perform in this beautiful state and to bring mariachi music to the state of Alaska," said Rivera.
The students have a very special reason to be here besides playing mariachi music, as Rivera explained.
"So part of this trip is so they can see the university and what it has to offer. They have great majors, great schools right at the University of Alaska Fairbanks but the coolest part is, eight of these students applied to the University of Alaska Fairbanks. On Saturday night they are going to find out if they are going to get accepted or not."
The band spent the first part of their trip to Fairbanks touring the campus and decided to make UAF their choice for college. Applicant Jesus Leandre specifically noted that he wants to go to UAF for their hands on engineering program, other students said they liked the staff and the smaller community. Marisol Ledzema, has traveled with the band to go on all the campus tours with her son Jared.
"Since he's been in this program I like to follow the education journey he's going to get into some day. When I heard of Alaska I thought, wow that sounds so exciting to be way out of our area. I've always thought that being an exchange student or doing something different; it's a good experience," said Ledzema.
Jared was particularly impressed by how UAF tops other schools in academics despite being a smaller campus.
The Mariachi Huenachi band will be preforming at the Davis Concert Hall on Saturday October 26th. The concert will be a mix of classic opera and traditional mariachi music.
More information can be found at the link below.
Copyright 2019 KTVF. All rights reserved.