Smokejumpers use sewing to help them fight fires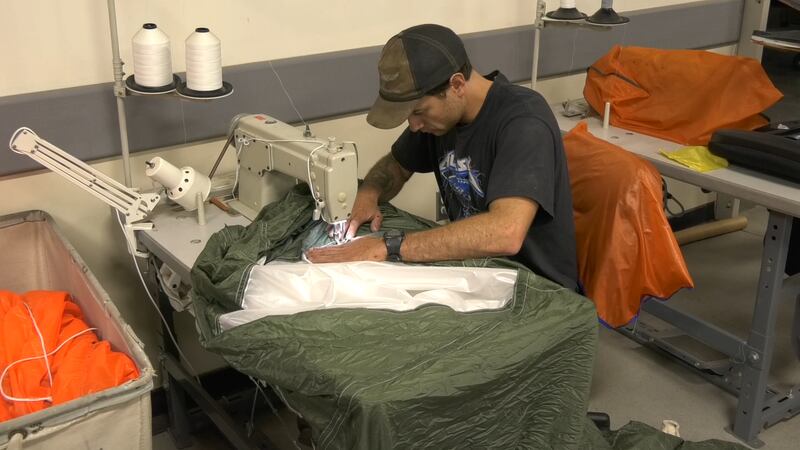 Published: Aug. 16, 2019 at 6:08 PM AKDT
Alaska is no stranger to wildfires, already this year over two million acres have burned. Smokejumpers play a key role in battling these blazes. Although they are most known for jumping out of airplanes and into the heart of the fire, they have other skills that help them stay safe while they fight the fires.
"It's not just like ground and pound on the line jumping out of airplanes and then just doing it again," said smokejumper Andrew Gavin. "A lot of times we come back have to refurb our gear, sew, patch parachutes, and do what we need to do to make sure everybody is getting the equal amount of share out in the woods and here in the loft."
The Loft is what they call the space where they sew, rig, manufacture and repair their gear. Everything they use for their jumps is made in-house, from the rigging for the parachutes, to the bags they use to pack it out.
They have patterns to build the jump pants and coats, the harnesses, and their gear bags. Inside the loft there are over 20 sewing machines, racks of fabric, rolls of webbing, and all types of others sewing tools and equipment.
Smokejumpers also pack all of their own parachutes. Rookie jumpers have to learn to pack their own chutes. They pack 20 practice chutes, and then, they have to pack their 21st.
"So the 21st is special because that's the parachute that you are going to jump and it's rigged by you. So after that 21st parachute is rigged, you jump it and everything is good, you land safely on the ground. Then you can start rigging parachutes and start putting them on the rack for other jumpers to use," Gavin said.
After they learn to pack a parachute they can start training to become a senior rigger, an FAA certification indicating they are able to repair and manufacture gear. From there they can become qualified as a master rigger, the highest rating in the Loft.
Gavin said they build their own equipment so they know it can be relied on.
"We like to make sure that everything we are putting out the door is great quality insurance, won't just blow out and break on the line when we need it most. And it is all lifesaving equipment."
After the cargo parachutes come back from a fire they all have to be checked and repairs made, if there is damage.
Since they build everything in-house, they can jump out of the plane, knowing their gear will keep them safe while fighting fires.
Copyright 2019 KTVF. All rights reserved.