Virtual education program to follow UAF research vessel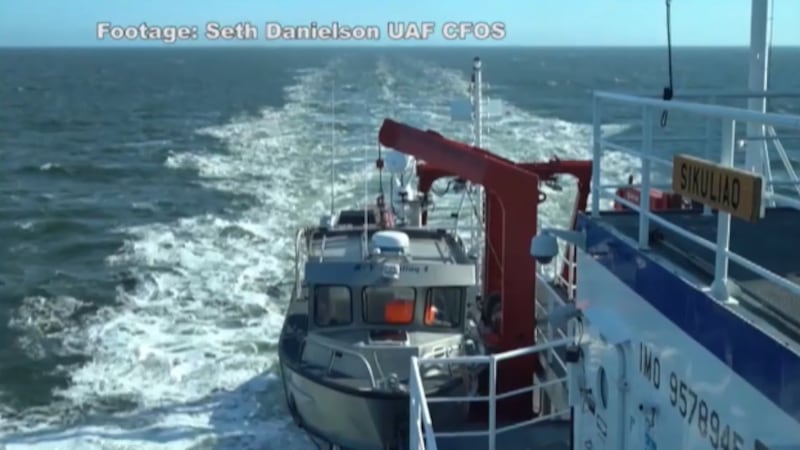 Published: Apr. 7, 2018 at 7:28 PM AKDT
University of Alaska Fairbanks' research vessel, Sikuliaq, is going out on another expedition, this time in the Gulf of Alaska - and you can follow along with them as they make discoveries.
Beginning April 16th, a virtual education program will be available that has multiple tools to keep viewers involved - including daily newsletters, chat rooms, and interviews with scientists.
The program is a partnership between the team filming the documentary "Microcosm", and the University of Alaska Fairbanks.
Different topics covered during the program are climate change, biodiversity and filmmaking in extreme environments, and female leadership in science and film.
Russ Hopcroft, a researcher on the cruise, told us how the research, along with the unique environment, should be of interest to Alaskans.
Russ Hopcraft; Professor, UAF Institute of Marine Science>>: "Most of the projects we do right now have the desire to have some kind of a more public presence and outreach dimension, as well as, the standard kind of science and education, so we're now working with the Microcosm group, out of Chicago, to come along and document some of this cruise. I have worked with the group before and they're interested in just being able to capture real science in action, hopefully in places that will be cinematically dynamic and something that people would be interested in seeing. We expect that not only will we be chronicling the unique findings that we have on the cruise, but the whole process itself, so what it's like being on a cruise, but the whole process itself, what it's like being on a cruise, how scientists approach what they're doing, and kind of the day to day, what it means to be on a science research cruise."
For more information on participating in the program, send email inquiries to SHRKSB8@aol.com.