Fairbanks Garden Club revives historical Anna Creamer garden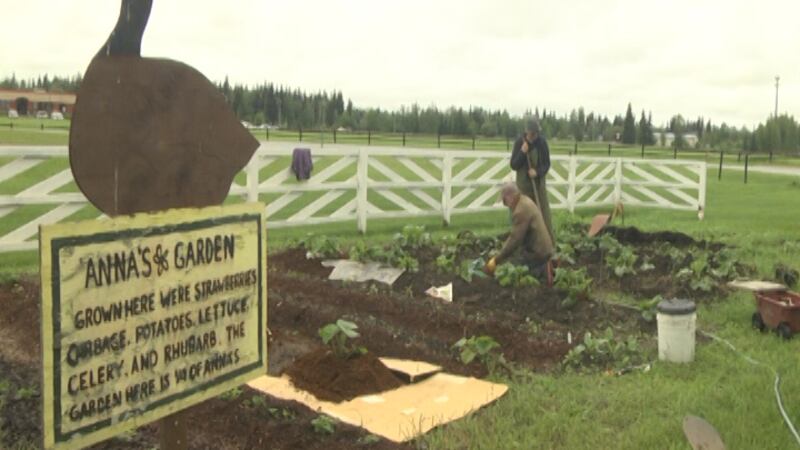 Published: Jun. 26, 2020 at 3:08 PM AKDT
For over 65 years the Fairbanks Garden Club has been adding to the beautification of the Interior through plants and flowers.
The club meets every Wednesday, rain or shine, to tend to Anna Creamer's historical vegetable garden, located near the Farmhouse Visitor Center at Creamer's Field.
The president of the club, Susie Crevensten, along with the help of her husband Doug and friend Elizabeth Mosenthinmasi restored the garden last year. They even received a grant from the National Garden Club to cover some of the costs and purchase a composter.
"This year we have made a team of people. We call it "Team Creamers" and these are garden club members that come down every Wednesday and work the garden," Crevensten said. "We encourage them with doughnuts! But we had a really good time, and as you can see the garden looks beautiful."
This year the plot has been planted with strawberry, zucchini, beets, carrots, swiss chard, potatoes and a pollinator garden.
Fairbanks Garden Club member Elizabeth Mosenthinmasi says joining the group has helped her learn to grow in the Interior. "I had come from southeast, and southeast gardening is totally different than gardening up here," Mosenthinmasi said.
"I joined the garden club and the ladies have such a wealth of knowledge... It's nice [that] I can just call them up and say 'Hey! I see a plant marked down' and I say 'will this grow here?' And they'll go 'no!' That's one thing I was attracted to, just the knowledge and a nice group of ladies." Mosenthinmasi added.
Besides helping out at Anna's Garden, the group also hosts speakers, provides garden tours, puts on a flower show and does several other projects around town that add to the beautification of Fairbanks with plants and flowers.
You can find out more information about joining the garden club on their website:
Copyright 2020 KTVF. All rights reserved.